Punch! Home & Landscape Design Essentials v21 - Instant Download for Mac (1 Computer)
---
Compare Punch! Software Home and Landscape Design v21 for Mac Features
| | | | | | |
| --- | --- | --- | --- | --- | --- |
| Home Design | Architecture Series | Professional | Studio | Essentials | Express |
| Advanced 2D Drawing Engine | ✓ | ✓ | ✓ | ✓ | ✓ |
| Custom Rich Text | ✓ | ✓ | ✓ | ✓ | ✓ |
| 3D Cutaway Tool | ✓ | ✓ | ✓ | | |
| Double Doors and Mounting Options | ✓ | ✓ | ✓ | ✓ | ✓ |
| Advanced Floor Management | 20 floors | 12 floors | 6 floors | 4 Floors | 4 Floors |
| Floor Plan Trace | ✓ | ✓ | ✓ | | |
| 1-Click Custom Room Additions | ✓ | ✓ | ✓ | | |
| Online Training Center | ✓ | ✓ | ✓ | ✓ | ✓ |
| Foundation Planner | ✓ | ✓ | ✓ | | |
| HVAC Planner | ✓ | ✓ | ✓ | | |
| Electrical Planner | ✓ | ✓ | ✓ | ✓ | ✓ |
| Estimator with Room Estimating | ✓ | ✓ | ✓ | ✓ | |
| Instant 3D Views | ✓ | ✓ | ✓ | ✓ | ✓ |
| Automatic and Custom Roof Tools | ✓ | ✓ | ✓ | | |
| Automatic Gables | ✓ | ✓ | | | |
| Dormer Tool | ✓ | ✓ | | | |
| Aerial Room View (3D) | ✓ | ✓ | ✓ | ✓ | |
| Metric and Imperial Measurements | ✓ | ✓ | ✓ | ✓ | ✓ |
| Framing | ✓ | ✓ | | | |
| Baywall | ✓ | ✓ | ✓ | | |
| Curved Wall Tool | ✓ | ✓ | ✓ | | |
| Room Addition Tool | ✓ | ✓ | ✓ | | |
| Interior Design | | | | | |
| Over 7640+ Materials | ✓ | ✓ | ✓ | ✓ | ✓ |
| Column Tool | ✓ | ✓ | ✓ | | |
| PhotoView | ✓ | ✓ | ✓ | ✓ | |
| Accessories / Window Treatments | ✓ | ✓ | ✓ | | |
| Décor Column Tool | ✓ | ✓ | ✓ | | |
| Cabinet Tool | ✓ | ✓ | ✓ | ✓ | ✓ |
| Cable/Phone/Thermostat | ✓ | ✓ | ✓ | | |
| Security System Tools | ✓ | ✓ | | | |
| Home Automation Tools | ✓ | ✓ | | | |
| Home Theater | ✓ | | | | |
| Landscape Design | | | | | |
| 2D Plant Symbols | ✓ | ✓ | ✓ | ✓ | ✓ |
| Customizable Plant Sizing | ✓ | ✓ | ✓ | ✓ | ✓ |
| Over 4000+ Plants | ✓ | ✓ | ✓ | ✓ | ✓ |
| Landscape and Patio Groupings | ✓ | ✓ | ✓ | ✓ | ✓ |
| Topography Tools | ✓ | ✓ | ✓ | ✓ | |
| Deck Layout Tools | ✓ | ✓ | ✓ | ✓ | ✓ |
| IntelliDeck Tools | ✓ | ✓ | ✓ | | |
| Custom Edging and Bed Borders | ✓ | ✓ | | | |
| Outdoor Kitchen Custom Cabinets | ✓ | ✓ | | | |
| Global Sun Positioning | ✓ | ✓ | ✓ | | |
| Site Planner (Property Line Coordinates) | ✓ | ✓ | | | |
| Other Features | | | | | |
| Library Navigation and Preview Control | ✓ | ✓ | ✓ | ✓ | ✓ |
| 3D Panning | ✓ | ✓ | ✓ | ✓ | ✓ |
| Point Selection Highlight Guides | ✓ | ✓ | ✓ | ✓ | ✓ |
| Drag and Drop into 3D | ✓ | ✓ | ✓ | ✓ | ✓ |
| Multiple Monitor Support | ✓ | ✓ | ✓ | ✓ | ✓ |
| Realmodel | ✓ | ✓ | ✓ | | |
| Elevation Editor | ✓ | ✓ | ✓ | | |
| Import DXF/DWG (2D) | ✓ | ✓ | ✓ | ✓ | ✓ |
| Export DXF/DWG | ✓ | ✓ | ✓ | ✓ | ✓ |
| 2D Symbol Libra | ✓ | ✓ | ✓ | | |
| Visualization | | | | | |
| 2D | ✓ | ✓ | ✓ | ✓ | ✓ |
| 3D | ✓ | ✓ | ✓ | ✓ | ✓ |
| 3D Panning | ✓ | ✓ | ✓ | ✓ | ✓ |
| 3D Animation | ✓ | ✓ | ✓ | ✓ | ✓ |
| Room View | ✓ | ✓ | ✓ | | |
| Cutaway | ✓ | ✓ | ✓ | | |
| Elevation | ✓ | ✓ | ✓ | ✓ | |
| Aerial | ✓ | ✓ | ✓ | | |
| Saved 3D Viewpoints | ✓ | ✓ | ✓ | | |
| Clearview/Wireframe | ✓ | ✓ | ✓ | | |
| Interoperability | | | | | |
| New - OBJ File Export | ✓ | ✓ | ✓ | ✓ | |
| New - STL File Export | ✓ | ✓ | ✓ | | |
| Other New Features | | | | | |
| CWPro | ✓ | ✓ | | | |
| Line Text Styles | ✓ | ✓ | ✓ | ✓ | |
| Expandable Fill Patterns | ✓ | ✓ | ✓ | ✓ | ✓ |
| Lightworks™ Photo Rendering lighting tools | ✓ | | | | |
| Callout Tool | ✓ | ✓ | | | |
| Level Lines | ✓ | ✓ | | | |
| Plan Labels | ✓ | ✓ | | | |
| Note Markers | ✓ | ✓ | ✓ | ✓ | ✓ |
| 2D House Plans | 1000 | 500 | 250 | | 250 |
PUNCH! HOME & LANDSCAPE DESIGN ESSENTIALS OVERVIEW:
Designing that dream home has never been simpler! Whether designing from the ground up; remodeling; or renovating; Punch! Home & Landscape Design Essential will help bring that dream home to life! It's easy to get started with the QuickStart feature that can quickly drag and drop rooms to complete the layout.
Create your own home design plan to renovate; redecorate; remodel or update your home inside and out.
Save time and money by visualizing your designs in 2D and 3D and estimating costs before you begin.
Includes how-to video tutorials, a user forum, and technical support to provide help when needed.
Punch! Home & Landscape Design Essential includes an integrated interactive help system to make finding and using the right tool fast and easy for professional or serious DIY home projects. It also comes with helpful training center video tutorials and technical support to ensure the process is as enjoyable as it is efficient.
What's New!
2D PLAN DETAILING:
Punch v21 now provides extensive detailing tools suitable for annotating site plans, floor plans, elevation views, and providing other details required for proper construction and permits. These new tools include Window and Door labels, and Note Markers. In addition, numerous improvements to line styles and fill patterns provide a greater ability to annotate and call out regions and areas of the drawing. All essential in accurately communicating design intent.
LINE STYLES:
Ability to add labels to line styles.
NOTE MARKERS:
Identify building specifications such as framing requirements, pier locations, etc.
WINDOW AND DOOR LABELS:
Add custom labels for use, for example, in identifying manufacturer name or model/part number.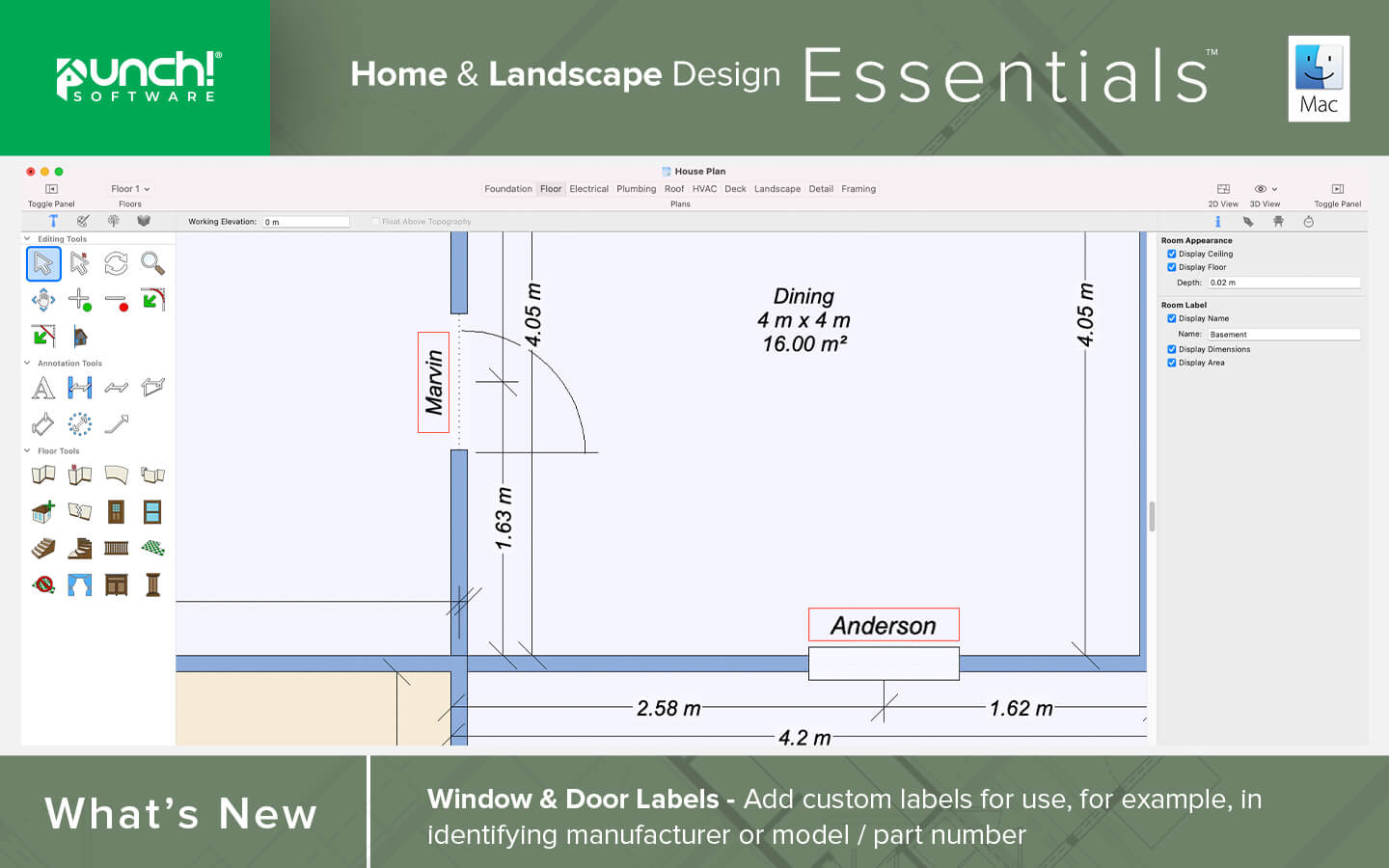 2D OBJECT DETAILING:
FILL PATTERNS:
Newly added patterns, and a new rotate pattern option.
FILL PATTERN LIBRARY:
Expandable through downloadable content.
PLANT LIBRARY:

Includes a full selection of flowers, shrubs, and trees you can add to your design. You can also add your own favorite plants to the database!

PLANTFINDER:

PlantFinder'Ñ¢ searches plants for your area, using parameters you specify, ensuring growing success.

Sorting feature lets you select growing parameters, international zones, sunlight, climate, water, and soil conditions.

Photo-realistic images of real-world plants that can be viewed from any angle.

Color-coded zone maps make plant selection easy and foolproof.
PLANT GROWTH:
Plan smart! Plan your design and see it grow over time. Perfect for previewing shade.
HARDSCAPES:

Build dramatic retaining walls that define and accent your home. Choose stone, brick, or other materials. Then add your plantings to finish the look.



Number of Computers/Users

1 Computer

License Duration

One Time Purchase

Delivery Method

Instant Download

Compatible Operating Systems

Mac OS X Mojave, Mac OS X Catalina, Mac OS X Big Sur, Mac OS X Monterey, Mac OS X Ventura, Mac OS X Sonoma
Easy 123
Priced best and easy install process.....
Product works
product works as expected
Seamless transaction with known reliable product.
Seamless transaction with known reliable product.
Easy!
This was an easy, no hassle process for us older folks. I was a bit wary, but it went well and works perfectly.
Excellent Product
Great price and helpful for my daughter for her studies
great for what it does
User interface could be streamlined
A phenomenal product!
This does everything easily and simply! Highly recommend for Amateurs and Professionals alike!!
So far so good!!!
This product was easy to install which was a great relief to me and so far it has not been extremely difficult for me to use. I am working my way through it but Im optimistic that this will work well for me
Very experienced user. It was easy to load and use.
Easy to load easy to load easy to use I like this product very much
We offer a 90 day Refund Policy if the following requirements ARE met: 
1. The License Key(s) has not been activated by you. This is verifiable by us.
2. The Order is not greater then 90 days old.
In the rare case there is an error on our part including our advertising, order process, etc, this will also qualify for a refund.
Buyers remorse or Operating System incompatibility does not qualify for this exception. It is the responsibility of the buyer to confirm their Operating System is compatible with the Software prior to purchasing. The compatible Operating Systems can be found on the product page in question.
If the above requirements ARE NOT met:
That sale is considered final and cannot be refunded. 
It cannot be refunded because the License Key(s) has been activated by you and cannot be used again by anyone else nor can it be revoked
We understand that it is unfortunate for everyone when Software is purchased and the License Key(s) is activated by you but then the Software is unusable or unstable due to incompatible Operating System. This policy is here unfortunately due to rampant fraud and bad actors that ruin it for actual innocent mistaken buyers.
This is standard refund procedure for Computer Software no matter where you purchase it.
In review, ENSURE YOUR OPERATING SYSTEM IS LISTED AS COMPATIBLE.
This is the process to expect when Downloading your Software:
After you place your order, you will receive an Order Confirmation Email.
After your payment clears, you will receive another email that contains a link to access your Download page. This usually takes a couple minutes but may take longer in some instances.
If you cannot locate this email, please check your spam or junk folder and also ensure you are checking the correct email address.
After clicking this link, the Download page will contain a button to begin the Download of your Software. This page also contains your License Key(s).
Click the button to begin the Download process and follow the prompts.
During the Download and Install process, the software will at some point request you to enter your License Key(s).
Payment & Security
We Accept
Your payment information is processed securely. We do not store credit card details nor have access to your credit card information.