Pinnacle Studio 20 Plus - Instant Download for Windows (1 Computer)
$1200 USD $2400
Unavailable
---
Compare Pinnacle Studio 20 Features
| | | | |
| --- | --- | --- | --- |
| | Ultimate |  Plus  | Standard |
| NewBlue bonus effects (900+ presets and 75+ plugins)  | ✓ | | |
| 360 video controls & effects  | ✓ | | |
| 4K Ultra HD video support  | ✓ | | |
| XAVC and DVCPRO HD decoding  | ✓ | | |
| Live Screen Capture  | ✓ | ✓ | |
| Audio Ducking — Detects audio or narration and automatically lowers the volume of background sound  | ✓ | ✓ | |
| Motion Tracking — Easily track moving objects on screen and connect them to elements, such as text | with mosaic blur  | ✓ | |
| Stop Motion Animation  | ✓ | ✓ | ✓ |
| Number of video/audio tracks  | Unlimited  | 24  | 6  |
| Multi-camera editing — Sync and align your clips, switch angles, cut, delete and add transitions in  | 6 cameras  | 4 cameras  | 2 cameras  |
Realize your vision with powerful movie editing software. Pinnacle Studio 20 Plus lets you edit in HD and 3D on the multi-track timeline, choose from over 1,800 2D/3D effects and perfect your audio. Create amazing animations frame by frame with new Stop Motion Animation. Combine footage from up to 4 cameras with the multi-camera video editor, and add moving text or graphics to an object with new Motion Tracking. Live Screen Capture is enhanced, letting you easily to record anything you see and hear on your computer to include in your videos. Upload your videos directly to social sites, export for popular devices or burn to DVD with 50+ new menu templates.
Pinnacle Studio 20 Plus Features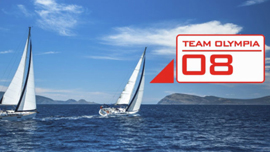 Motion Tracking New!
When you want to put the focus on certain people or objects in your video, Motion Tracking is the perfect tool. Add moving text or graphics to track players in a sporting event, or draw attention to particular guests at a big event. Mark your object, press play to track its motion and then easily add the overlay of your choice.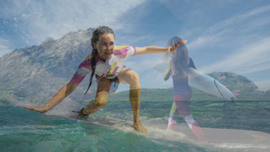 Easy Track Transparency New!
Add impact to your video tracks and adjust the opacity of a video clip, so you can see multiple clips at the same time in an overlay effect with Track Transparency. Easily control the transparency of each track directly from within the timeline.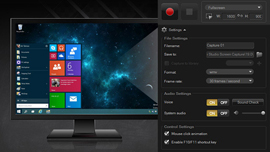 Live Screen Capture Enhanced!
Record directly from your screen, capturing both system audio and microphone sound, then bring your captured files to the main timeline to use them in movies, presentations and training videos. Snap View Capture works in Windows 8/10 to let you record Windows apps in action.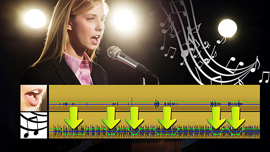 Audio Ducking
Balance dialog, narration with background sound for pro-quality audio. With Audio Ducking, Pinnacle Studio 20 Plus video editing software detects audio or narration and automatically lowers the volume of background sound. Adjust the Ducking Level and Sensitivity if you wish for even more control.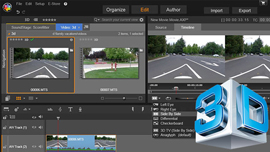 Advanced 3D Features
Edit in 3D in the timeline with advanced stereoscopic 3D features. Our partnership with NVIDIA® allows NVIDIA® 3D Vision® display in both full-screen and window modes. View 3D on dual monitors and export "side-by-side" formats recognized by most 3D HDTVs. Auto-color correct for both eyes and control stereoscopic 3D depth (parallax effect).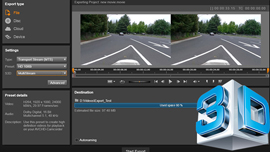 Make Movies in Stereoscopic 3D
Import 3D video clips from sources like GoPro® 3D cameras and Panasonic® MVC format. Edit in various viewing modes, add true 3D effects, and enjoy the best quality with NVIDIA® 3D Vision® optimization and GeForce® support. Export to YouTube® 3D, AVCHD™ 3D, and more for viewing on 3D HDTVs, Sony® PS3™, and other 3D devices, even mix 2D and 3D in the same project.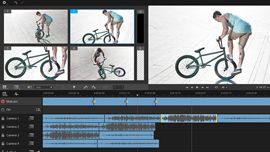 Multi-Camera Video Editor Enhanced!
Work with footage from 4 cameras to create more dynamic videos. The Multi-Camera Video Editor lets you screen your footage, switch angles, cut and delete, and add transitions. Align clips automatically with Audio Syncing or use markers, date/time or manual syncing. Even use your multi-camera results to create a Picture-in-Picture effect.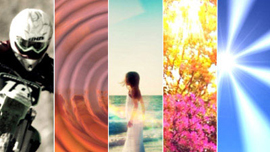 Enhance with 1,800+ Effects, Transitions and Templates
Add excitement and polish with over 1,800 2D/3D effects, animated titles and transitions. The included Montage video templates that provide preset themes—weddings, sports, holidays, sci-fi, comics and more—for fast pro-level results with just a few clicks. Customize them for just the right look.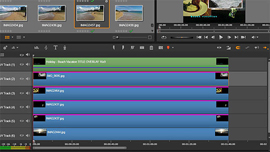 Timeline Editing (24-Tracks)
Set source clip trim in/out points, then send your trimmed clips to the timeline. 24 tracks let you create sophisticated picture-in-picture and multi-layer effects in HD with frame accuracy and keyframe editing—just like a pro. Or try Storyboard editing to visualize how your story will unfold.
Pinnacle Studio 20 Features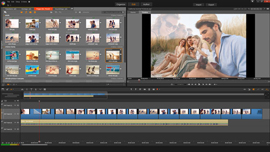 Drag and Drop HD video editing
The SmartMovie tool is like an automatic video editor, creating stunning movies for you in a snap. Just drag-and-drop the videos, photos and music you want to see in your project, then let Smart Movie do the work. Preview your movie and edit in the timeline to further to customize your project. Create a polished movie ready to impress in no time.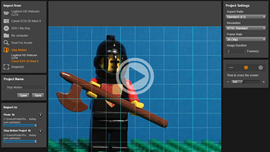 Stop Motion Animation New!
Create big screen-style animations and full-HD videos. Gather your props, plug in your camera and tap into the processing power and unique lens capabilities of your DSLR to capture your story frame by frame. Control camera settings, see overlay frames, set distances and capture frames automatically or manually from within your video editing software.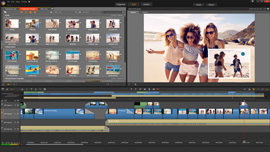 Easy Controls for Dynamic Effects Enhanced!
Turn a static image into a compelling part of your video with simple controls for Pan and Zoom. Add interest and excitement with the easy Picture-in-Picture effect. We've also made Audio keyframing easier, changing knobs to slider controls.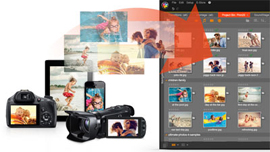 Easily Import Media
Import your videos and photos manually or automatically from virtually any device—camcorders, digital cameras, webcams, tablets, mobile phones, handheld audio recorders, and more. Pinnacle Studio 20 also supports for VFR videos from iPhone 6 and other new-generation cameras. Import from tape-based1 and analog devices1, as well as audio files in 5.1 surround format.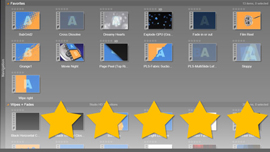 Save Your Favorites
With a simple right click, you can easily add your most-used effects, filters and transitions to your Favorite section to quickly find and reuse them anytime. Rate effects using our 5 star scale to easily sort your library and quickly find your favorites or frequently used effects.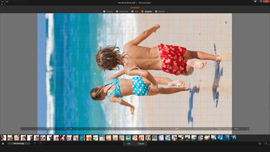 Quick Fixes for Common Problems
Do you need to rotate your video or enhance the color? No problem! Pinnacle Studio has you covered with video rotation tools. Crop, zoom, and eliminate red eye from photos. Color-correct video and stabilize shaky footage.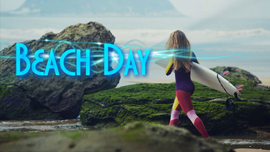 Titles and Overlays
Add titles to your photos and videos, or overlay graphics on your clips. Control motions and durations. With a diverse selection of title animations, you are guaranteed to find the perfect look to complement your video.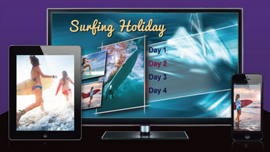 Pinnacle MyDVD Enhanced!
Experience a new and easier way to burn to DVD and AVCHD disc. Get a stylish look with 50+ themed templates to add menus, sub-menus and chapters to your video. Turn your videos into pro-quality multimedia disc projects with image-rich menus and music.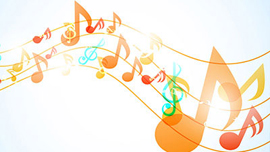 ScoreFitter Sounds & Music
No movie is complete without a soundtrack. Add music with the included ScoreFitter library of royalty-free sounds and songs—they even automatically adjust to perfectly fit the length of your movie.
Robust Performance
See results sooner with native 64-bit architecture that lets you make the most of your PC's processing power and memory. Enjoy faster multi-track rendering and better file handling. Pinnacle Studio 20 video editing software is also optimized for Intel's 6th Generation processor (Skylake).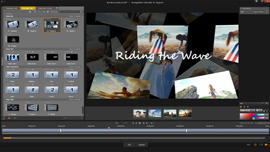 Photo Slideshows and Videos
Use your video editor to create amazing photo slideshows complete with transitions, titles and effects, or combine photo and video for the perfect montage. Start with themed montage templates or create from scratch on the multi-track timeline.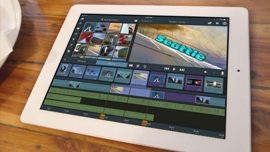 On-the-Go Video Editing Software
Work on projects anywhere with Pinnacle Studio for iOS2, then transfer them to Pinnacle Studio for further polishing. Try Project Packages to bundle together all of the media files related to a given movie, taking the work out of organizing and assuring that you always have all the files you need.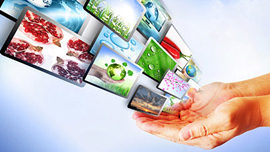 Share Anywhere
Pinnacle's simple video editor allows you to easily share your HD videos with family and friends on Facebook®, YouTube®, and Vimeo®. You can also easily create DVDs and export to popular formats like Adobe® Flash® FLV, MPEG-4, and DivX®, as well as popular devices like Microsoft® Xbox®, Sony® PlayStation, Nintendo™ Wii™, Apple® TV and Apple® iPad®.
Includes FREE Training!
Learn how to make the most of your video editing software with a 21-day, all-access pass to StudioBacklot.tv, featuring brand-new Pinnacle Studio 20 content, loads of other training and a royalty-free stock library. Visit our Discovery Center for help getting started or to access tutorials on specific techniques and projects.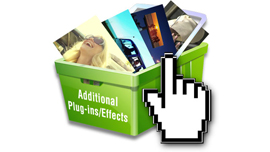 Additional Plugins and Effects Available
Expand the power of your video editing software with additional plugins and effects that you can purchase directly within Pinnacle Studio! Preview and purchase high-quality, royalty-free music from Triple Scoop Music and sound effects from Muserk. Burning to Blu-Ray? Purchase the Blu-Ray plug-in directly within Pinnacle Studio.
1 Video capture hardware required
2 Pinnacle Studio for iPad app not included, available for purchase separately
Number of Computers/Users

1 Computer

License Duration

One Time Purchase

Delivery Method

Instant Download

Compatible Operating Systems

Windows 7, Windows 8, Windows 10, Windows 11
Buyer's Experience with Tech:
Buyer's Operating System:
WInodws 10
Awesome Product
This software was able to produce the media that I needed for my project.
Good video editing software
This is the 3rd and the best video editing software I have used
Pinnacle is a fantatic software! easy to use and have everything you need ! I`m so happy!
pinnacle is a fantatic software! easy to use and have everything you need to make pro videos you can burn the project direct to dvd! the only software i have find doing this you dont need a third party software to do this ! Make menus easy! i`m so happy!
Easy for a novice
I was concerned that this would be complicated - I've never used software to edit videos before. But I wanted to try to put together a birthday video for my husband. This was fairly easy to use. There's a sample movie that shows you how it's supposed to look that is very helpful.There are TONS of effects you can use -- it's almost overwhelming. I can't speak to people who do this all the time, but if you are a novice, this is a pretty good software that you can figure out.
Great software for home use.
The software is written for 64bit capability and takes advantage of my system. It does freeze up once in a great while but that has not stopped me from using the software extensively. Recommended for beginners and intermediate users.
it works....sort of
Only problem I have is it takes the soundtrack for a video and throws it off in the final rendering by a few seconds... contacted Pinnacle and they want access to my whole computer to see if they can fix it... nope I don't give access to anyone.. Maybe they should fix all the bugs before they charge $$$$ for a product... I have Nero … that renders my videos just fine...
Might not be for the "novice"
This software has SO much going on. There's a plethora of things you can do with it. . . which is GREAT. .. but. . . if you're a "beginner", then you're probably going to be VERY overwhelmed. Pinnacle offers tutorials. .. but for a fee. Fortunately, there are several very good tutorials to be found online for free. But I have to say. . . This is not the easiest software to use for a novice. You have to be willing to put in the time-and-effort. I've used it for quite "simple" things, and it works, but it's time-consuming. Make sure you look at the differences between the three different software options. The "Plus" software (this listing) has just about everything one could need. . . but. . . . if you need 360 video, then you'll need to check-out the "Ultimate" software.
Perfect for ameteur video enthusiasts
I'm not the most advanced video editor. I take lots of home videos and might take a few videos of something I find interesting, be it landscape or an event or just things during the day.My goal was to make something of a video montage with this program and I was really able to do that.It's taken me a bit to get used to everything and make something I'm happy with, but once I got used to the program I chugged right along with my project.I probably would not recommend this to the armchair video taker, but maybe someone who is the family videographer would appreciate this in a way similar that I did.
I have been using Pinnacle since Studio 8 and it ...
I have been using Pinnacle since Studio 8 and it remains tops for me above the others for price, user friendliness and upgrades in terms of new technologies.
Easy to use
Easy to use. Quality Output, both video & audio. Supports so many formats. Has been supported for years. Recently purchased by Corel. Lots of YouTube tutorials.
We offer a 90 day Refund Policy if the following requirements ARE met: 
1. The License Key(s) has not been activated by you. This is verifiable by us.
2. The Order is not greater then 90 days old.
In the rare case there is an error on our part including our advertising, order process, etc, this will also qualify for a refund.
Buyers remorse or Operating System incompatibility does not qualify for this exception. It is the responsibility of the buyer to confirm their Operating System is compatible with the Software prior to purchasing. The compatible Operating Systems can be found on the product page in question.
If the above requirements ARE NOT met:
That sale is considered final and cannot be refunded. 
It cannot be refunded because the License Key(s) has been activated by you and cannot be used again by anyone else nor can it be revoked
We understand that it is unfortunate for everyone when Software is purchased and the License Key(s) is activated by you but then the Software is unusable or unstable due to incompatible Operating System. This policy is here unfortunately due to rampant fraud and bad actors that ruin it for actual innocent mistaken buyers.
This is standard refund procedure for Computer Software no matter where you purchase it.
In review, ENSURE YOUR OPERATING SYSTEM IS LISTED AS COMPATIBLE.
This is the process to expect when Downloading your Software:
After you place your order, you will receive an Order Confirmation Email.
After your payment clears, you will receive another email that contains a link to access your Download page. This usually takes a couple minutes but may take longer in some instances.
If you cannot locate this email, please check your spam or junk folder and also ensure you are checking the correct email address.
After clicking this link, the Download page will contain a button to begin the Download of your Software. This page also contains your License Key(s).
Click the button to begin the Download process and follow the prompts.
During the Download and Install process, the software will at some point request you to enter your License Key(s).
Payment & Security
We Accept
Your payment information is processed securely. We do not store credit card details nor have access to your credit card information.