Parallels Desktop 11 for Mac - Instant Download for Mac
$39.00 $99.99
Unavailable
Parallels Desktop 11 for Mac - Instant Download for Mac is backordered and will ship as soon as it is back in stock.
Number of Computers: 1 Computer

Delivery Method: Instant Download

Support: Lifetime Support from Brand at no extra cost

License Type: Permanent (One Time Purchase for Life)

Compatible Operating Systems:

Mac OS X Mavericks
Mac OS X Yosemite
Mac OS X El Capitan
Mac OS X Siera
Consider Download Protection

Times have changed with how Computer Software is sold. While downloading software has its benefits, it does raise concerns with how you can reinstall the software in the future if you need to in case of computer failure or loss. That's why we have developed the Download Protection Program.

You can always download your software from our Website for up to 30 Days from purchase date for free. However, with the Download Protection Program, you can download it anytime you need to for as long as you are subscribed. You can Cancel at Anytime.

You can add Download Protection to your order after you add this item to your cart.

Keep in mind you can always keep a backup of your software yourself and this Protection is not required.
Parallels Desktop for Mac is simply the world's bestselling, top-rated, and most trusted solution for running Windows applications on your Mac. With Parallels Desktop for Mac, you can seamlessly run both Windows and Mac OS X applications side-by-side without rebooting. Use Internet Explorer, Windows Media Player, Access, and hundreds of other Windows applications not available on the Mac. Quickly switch between Mac and Windows. Seamlessly utilize Mac features inside Windows and leverage Windows' strengths on your Mac. Parallels Desktop will automatically tune for what you'll use it for the most: productivity applications, design, or development—even gaming.
The Parallels Desktop 11 for Mac supports the latest OS X El Capitan and Windows 10, thus you can use Cortana, your virtual assistant, on your Mac. It also optimizes and improves Windows boot time and shutdown time, extends battery life, runs many tasks faster in Windows.
Purchase the Parallels Desktop 11 for Mac and enjoy the best of both worlds.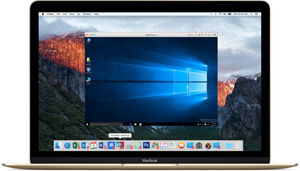 Ready for Windows 10 and El Capitan
Run Windows 10 in a virtual machine with ease. Upgrade Windows 7 or 8 to Windows 10, or create a brand new virtual machine with Windows 10. You can even run Windows 10 on El Capitan.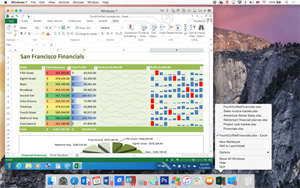 Lightning Fast Performance
For Windows 8.1 and Windows 10, boot time and shut down time can be as much as 50% faster. Battery life is extended up to 15%. Virtual machines suspend up to 20% faster. Many tasks in Windows up to 25% faster.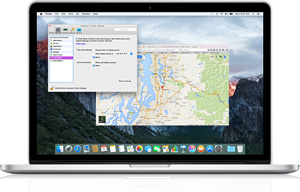 Improved Battery Life
New "Travel Mode" temporarily shuts down resource intensive services in order to extend battery life while away from a power source.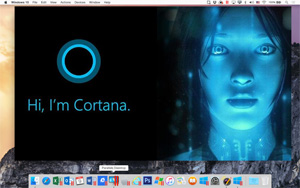 Always on Cortana
Brings Windows goodness to Mac. Use Cortana, the Microsoft speech enabled virtual assistant, even when Windows 10 is not the forefront application.
Run Windows and Mac Applications Side by Side

Choose your view to make Windows invisible while still using its applications, or keep the familiar Windows background and controls on your Mac.
Switch from Your PC to Your Mac

We make it easy to get all of your files, applications, browser bookmarks, and more from your PC to your Mac; just follow the setup assistant.
Works with Boot Camp

Reuse your existing Boot Camp installation. Converting a virtual machine from Boot Camp is now much easier and more intuitive than ever.
Not just for Windows

Run a wide array of operating systems including OS X, Windows 10, 8.1 & 7, Linux, and Google ChromeTM. You can run just about anything on your Mac!
Real-Time Location

Mapping applications like Google Earth now receive location data in real time from OS X.
Notification Center Comes to Mac

While in Coherence Mode, quickly view notifications through an icon located in your OS X menu bar.
Windows Printing made Easy

No need to install a print driver in Windows; printing from the virtual machine now opens the native OS X printer dialog to print to your OS X configured printer.
Quickly Switch into Coherence Mode

Quickly switch into Coherence Mode, maintaining the look and feel of OS X for your Windows apps.
Improved File Associations

Right click on a file in OS X and choose to have the files open in your virtual machine, and remember that choice for all operations with the extension.
One-Click Tuning

Select productivity, games, design, or development, and Parallels Desktop 11 for Mac will optimize your virtual machine settings and performance for you.
Support

Lifetime Support from Brand at no extra cost

Number of Computers

1 Computer

License Type

Permanent (One Time Purchase for Life)

Delivery Method

Instant Download

Compatible Operating Systems

Mac OS X Mavericks, Mac OS X Yosemite, Mac OS X El Capitan, Mac OS X Siera
Unfortunately, computer software cannot be returned, cancelled or refunded.
It cannot be returned because the software and license key have been exposed to you. Either it has been used and activated by you and cannot be used by anyone else or it could be used at a later date. This is standard refund procedure for computer software no matter where you purchase it.
Please ensure your system is compatible with the Software before Purchase.
All technical support inquiries should be sent to the Brand for resolution.
---
Payment & Security
Payment methods
Your payment information is processed securely. We do not store credit card details nor have access to your credit card information.