Punch!CAD ViaCAD 2D/3D v14 - Instant Download for Windows (1 Computer)
$14999 USD $19999
Unavailable
---
Compare Punch!CAD v14 Features
ViaCAD Pro
ViaCAD 2D/3D
ViaCAD 2D
SharkCAD
SharkCAD Pro
26 Dimenstion Types, Fillet,Chamfer, Break, Trim
✓
✓
✓
✓
✓
Geometric and Dimensional Constraints
✓
✓
✓
✓
✓
GD&T, Markup & Redline
✓
✓
 ✓
Precise 3D to 2D (Section , detail, & auxillary views)
 ✓
 ✓
Architectural Tools (smart walls, doors, windows, roofs)
2D/3D
2D/3D
2D
2D/3D
2D/3D
3D Modeling Tools
Skin, Cover, Net, Extrude, Lathe, Sweep
✓
✓
✓
✓
3D Printing Verification/Repair
✓
 ✓
✓
 ✓
Blend, Shell, Bend, Wrap
✓
✓
 ✓
Advanced Surface/Solid Modeling
Limited
Advanced
Rendering, Presentation and Visualization
PhotoRendering (Raytracing, Materials, Lighting)
✓
✓
 ✓
Advanced Lighting
 ✓
 ✓
Translators
3MF, OBJ, 3DS, DXF/DWG,PDF,VRML,STL
✓
✓
✓
✓
✓
IGES, STEP,SAT,SAB
✓
✓
 ✓
SolidWorks, NX, CATIA, SolidEdge,Inventor, Parasolids

 

Limited
Advanced
AFFORDABLE 2D/3D CAD SOFTWARE THAT IS EXTREMELY POWERFUL AND EASY TO USE
ViaCAD 2D/3D offers precision design tools for beginning to intermediate CAD software users. It allows you to create in 2D or 3D and quickly toggle between views. Our price to performance ratio blows the competition away. Amateur users will be thrilled by professional-looking results, while professionals will love how budget-friendly this version of ViaCAD is.  
VIACAD 2D/3D CAN HELP YOU DESIGN PROJECTS SUCH AS:
Architectural drawings
Remodeling plans
Invention prototypes
3D printer projects
Mechanical drawings
Interior decorating plans
Furniture design
Jewelry making
Musical instruments
Objects for use in video game development
Graphics and technical illustrations
Classroom, science fair, and robotics club projects 

 
COMPATIBILITY AND FILE SHARING
ViaCAD software plays nice with others. ViaCAD is compatible with AutoCAD® with up-to-date DWG import and export capabilities. So your team will be able to work together without forcing everyone to be on the same brand of CAD software.
ViaCAD is also compatible with over a dozen popular CAD and Graphics formats, so you'll be able to deliver files that can be opened and edited by users of other popular design software.
ViaCAD provides compatibility with AutoCAD® DWG files
DXF/DWG versions from R12 to 2019
STL Import/Export for 3D printing
SVG Import and Export
3MF Import & Export
VMRL 2.0 Texture Support
OBJ Texture Support
Adobe Illustrator® Import
PDF Import
SketchUp 2019 Import/Export
Collada™ (DAE) Import/Export
Complete support for Metric and Imperial units 

 
VIACAD 2D/3D IS PACKED WITH 3D MODELING AND 2D DRAFTING TOOLS
Make your designs come to life with our powerful 3D CAD software. Begin exploring the powerful world of 3D mesh modeling! ViaCAD provides solid modeling technology found in many higher-end products. There is behind-the-scenes programming that connects 2D and 3D, so that you can edit 2D profiles used to create 3D objects and the 3D shape will automatically update.
Powerful 3D design tools including mesh, surface, and solid modeling
3D editing tools such as blending, chamfering, and shelling
Complete design tool with extrusions, Booleans, and surface modeling.
Precise geometry suitable for 'concept to manufacturing'
Automatically generate 2D drawings from 3D models
Tools to create 3D from 2D shapes
Over 275 tools for 2D drafting (text, dimensions, points, lines, arcs, etc.)
3D printing verification tools
And much more! 
INTUITIVE DESIGN AND EDITING UTILITIES
Drawing precisely is easy with ViaCAD! We have designed it to be user friendly and intuitive to work with.
The LogiCursor™ anticipates your next action and guides your cursor to potential point selections in the drawing.
The Gripper adds drag and drop capabilities to make editing designs easy breezy.
Customizable Grids add another level of ease by providing precision drag and drop in rectangular, polar (circular), and isometric layouts. 
3D PRINTING TOOLS
ViaCAD 2D/3D includes 3D printing tools to prepare and validate your designs to make them 3D printer ready. 
3D PRINT CHECK
Checks for print viability, displaying warnings or errors to the user.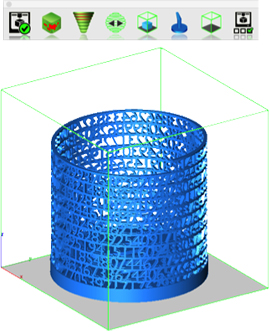 SURFACE NORMALS CHECK
Facet normals define the inside and outside areas of a part. If facet normals are pointing the wrong way, the 3D printer may have problems creating the part. This will check for problems and we have several commands that can help you fix it.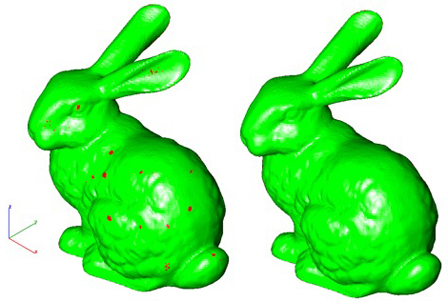 OVERHANG ANALYSIS
This will help you visually inspect modeling areas that may require structural support for 3D printing. Meshes, surfaces, and solids facets normals are compared to the work plane direction. Angles that are less or equal to 45 degrees are highlighted as red.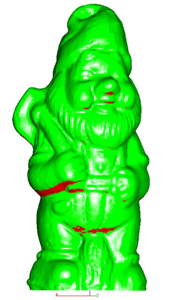 WALL THICKNESS ANALYSIS
This tool provides a means to visually inspect modeling areas that may be too thin for 3D printing. Meshes, surfaces, and solids facets are examined using ray intersections.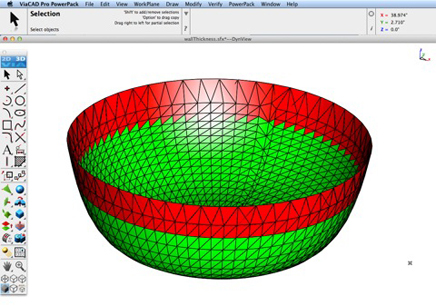 PREVIEW SLICES
This interface will help you to slice models given a direction and thickness. The dialog box allows for animation through the slices and single-stepping. Use to verify that a part has closed, non-overlapping sections, a requirement for 3D printing.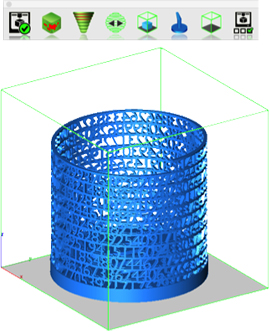 AUTO POSITION
The Auto Position tool translates the model to the positive x, y coordinate system at z=0.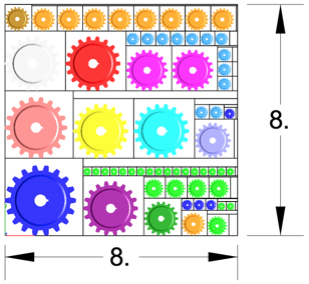 SUPPORT STRUCTURE
Manually adds geometry to support material as it is created by the 3D printer. Support structures controls, include Attach Radius, Midpoint Radius, Base Radius, Base Thickness, and Drag base and midpoints to modify structure location.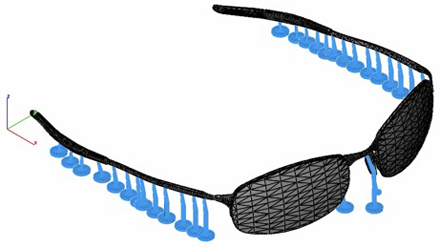 SHOW PRINTER VOLUME
Toggles the boundary of the default 3D Printer. The volume is defined within the Printer Definitions dialog box.
PRINTER DEFINITIONS
Sets key parameters of the 3D printer, including length, width, and height of the volume accessible by the printer. The parameters in the Printer Definitions dialog box are used for commands such as 3D Print Check and Auto Position.
BOM FRACTION MEASUREMENTS
The Bill of Material Create BOM feature has a new option to support fraction measurements. To use this feature, select the Attributes and BOM dialog box from the Tools menu. Select your objects and associated a data set such as CutList properties. Apply to selected. Now select the Create BOM option to create a table. In the BOM Settings dialog box, select the Decimals pull down option. And then Select Fractions to display measurements as factions of feet and inches.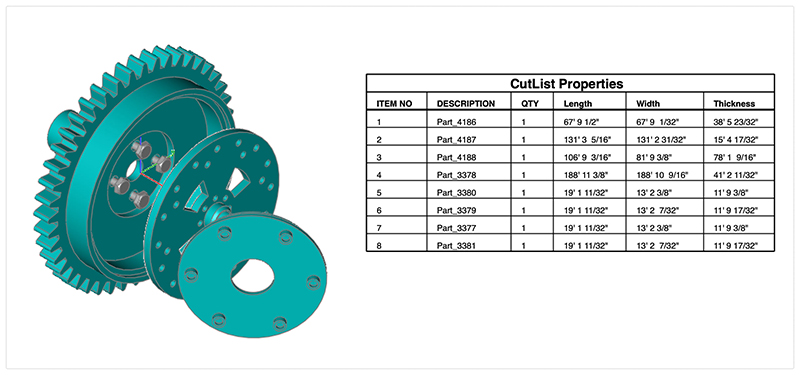 PBR PHOTO RENDERING
PBR, or physically based rendering, is a method of rendering computer graphics that aims to accurately represent the way that light interacts with different materials in the real world. In PBR rendering, the appearance of a material is defined by a set of parameters that describe its physical properties, such as its roughness, reflectivity, and transparency. These parameters are used to calculate the way that light reflects off the surface of the material, taking into account the angle of the light source and the surface normal, as well as the surface's roughness and other properties.
One of the key benefits of PBR rendering is that it allows for more realistic and consistent results, as it is based on the physical properties of real-world materials rather than arbitrary artistic choices. This makes it particularly well-suited for applications where photorealism is important, such as architectural visualization, product design, and film and game development.
Key user interface components to PBR rendering include:  
• Photo Render Tool Palette
• Rendering Cameras
• Render To File
• Render Window
• Render Settings
 For a quick introduction to Photo Rendering with V14 see the video below:
PHOTO RENDER TOOL PALETTE 
The Photo Render tool palette provides access to many of the tools used to create photo rendered images. The tool palette is access from the Tools menu bar "Photo Render" option.    

LASER LIGHT
The laser light adds a direct light source that emits a focused beam of light. Laser Lights are defined by a start point, end point, radius, and gain. The start point defined the laser start while the end point defines the direction of the light. The radius value defines the cylinder region of light. The gain defines the strength of the light.

PARABOLOID PRIMITIVE
The paraboloid primitive provides a means to create a quadric surface from one-, two-, or three-point definitions. Use a paraboloid to create a reflectors/radars, automobile headlights, solar furnaces, antennas, and aerodynamic tips. The Paraboloid primitive is located in the solid primitives tool palette, last tool item. The one-point paraboloid has a base center, and three radius values. The two-point paraboloid has a base center, end. The three point has two points defining the base diagonal, and one point defining the height. Each method provides a data entry window interface to change the associated radius values.

GRIPPER NON-UNIFORM SCALING
The Gripper has a new graphic widget to perform non uniform scaling via a handle. To use this feature, display the inspector and select the gripper properties tab. Then select "Enable Gripper". The non-uniform scale graphic is the red, blue, or green box display along the associated axis. Select, hold and drag over the box to scale along that particular axis.
Red scales along x
Blue along y
And Green scales along z
You can scale curves, surfaces, or solids. Use the data entry window to scale a precise amount.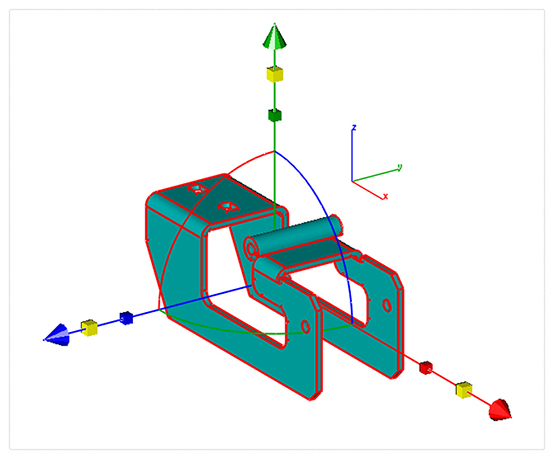 AREA DIMENSION
A new dimension tool was introduced to support area-based measurements. To access the Area Dimension tool tear out the dimension tool palette and select the area dimension tool icon. The area dimension works with collections of closed curves or polygons. There are two options accessed through the data entry window.
1. Leader Line Dimension
2. Text at Centroid
Select Pick Leader Line Dimension. And now select the collection of curves or polygon. Then select the arrow location and text location. Now change the area method to text at centroid. And select the polygon. The area dimension is associative to the curves originally selected. Modifying a curve will update the area dimension. The Area dimension also work with a collection of curves used in a constrained system. In this case, updating any dimension value, will update the area dimension.

ACIS MODELING KERNEL UPDATE
The core modeling kernel was updated to support a newer version from Spatial.  The new update provides greater increases in quality and robustness and improvements in modeling tasks such as booleans, blending, chamfering, sweeps, skinning, healing, and faceting functionality.
Number of Computers/Users

1 Computer

License Duration

One Time Purchase

Delivery Method

Instant Download

Compatible Operating Systems

Windows 7, Windows 8, Windows 10, Windows 11
Easy 123
Priced best and easy install process.....
Product works
product works as expected
Seamless transaction with known reliable product.
Seamless transaction with known reliable product.
Easy!
This was an easy, no hassle process for us older folks. I was a bit wary, but it went well and works perfectly.
Excellent Product
Great price and helpful for my daughter for her studies
great for what it does
User interface could be streamlined
great for what it does
User interface could be streamlined
great for what it does
User interface could be streamlined
great for what it does
User interface could be streamlined
A phenomenal product!
This does everything easily and simply! Highly recommend for Amateurs and Professionals alike!!
We offer a 90 day Refund Policy if the following requirements ARE met: 
1. The License Key(s) has not been activated by you. This is verifiable by us.
2. The Order is not greater then 90 days old.
In the rare case there is an error on our part including our advertising, order process, etc, this will also qualify for a refund.
Buyers remorse or Operating System incompatibility does not qualify for this exception. It is the responsibility of the buyer to confirm their Operating System is compatible with the Software prior to purchasing. The compatible Operating Systems can be found on the product page in question.
If the above requirements ARE NOT met:
That sale is considered final and cannot be refunded. 
It cannot be refunded because the License Key(s) has been activated by you and cannot be used again by anyone else nor can it be revoked
We understand that it is unfortunate for everyone when Software is purchased and the License Key(s) is activated by you but then the Software is unusable or unstable due to incompatible Operating System. This policy is here unfortunately due to rampant fraud and bad actors that ruin it for actual innocent mistaken buyers.
This is standard refund procedure for Computer Software no matter where you purchase it.
In review, ENSURE YOUR OPERATING SYSTEM IS LISTED AS COMPATIBLE.
This is the process to expect when Downloading your Software:
After you place your order, you will receive an Order Confirmation Email.
After your payment clears, you will receive another email that contains a link to access your Download page. This usually takes a couple minutes but may take longer in some instances.
If you cannot locate this email, please check your spam or junk folder and also ensure you are checking the correct email address.
After clicking this link, the Download page will contain a button to begin the Download of your Software. This page also contains your License Key(s).
Click the button to begin the Download process and follow the prompts.
During the Download and Install process, the software will at some point request you to enter your License Key(s).
Payment & Security
We Accept
Your payment information is processed securely. We do not store credit card details nor have access to your credit card information.