Punch!CAD ViaCAD 2D v14 - Instant Download for Mac (1 Computer)
$4999 USD $6999
Unavailable
---
Compare Punch!CAD v14 Features
ViaCAD Pro
ViaCAD 2D/3D
ViaCAD 2D
SharkCAD
SharkCAD Pro
26 Dimenstion Types, Fillet,Chamfer, Break, Trim
✓
✓
✓
✓
✓
Geometric and Dimensional Constraints
✓
✓
✓
✓
✓
GD&T, Markup & Redline
✓
✓
 ✓
Precise 3D to 2D (Section , detail, & auxillary views)
 ✓
 ✓
Architectural Tools (smart walls, doors, windows, roofs)
2D/3D
2D/3D
2D
2D/3D
2D/3D
3D Modeling Tools
Skin, Cover, Net, Extrude, Lathe, Sweep
✓
✓
✓
✓
3D Printing Verification/Repair
✓
 ✓
✓
 ✓
Blend, Shell, Bend, Wrap
✓
✓
 ✓
Advanced Surface/Solid Modeling
Limited
Advanced
Rendering, Presentation and Visualization
PhotoRendering (Raytracing, Materials, Lighting)
✓
✓
 ✓
Advanced Lighting
 ✓
 ✓
Translators
3MF, OBJ, 3DS, DXF/DWG,PDF,VRML,STL
✓
✓
✓
✓
✓
IGES, STEP,SAT,SAB
✓
✓
 ✓
SolidWorks, NX, CATIA, SolidEdge,Inventor, Parasolids

 

Limited
Advanced
EASY TO USE, INCREDIBLY POWERFUL 2D DRAFTING AND DESIGN SOFTWARE
ViaCAD 2D is the perfect gateway for people who are new to using using CAD software or those who only need to create two dimensional designs, plans, and drawings. We include over 275 drawing tools that do all the hard work for you. It is small budget friendly, yet powerful enough to build big projects. 
VIACAD 2D CAN HELP YOU DESIGN PROJECTS SUCH AS:
Architectural drawings
Remodeling plans
Floor plans
Interior design layouts
Landscape design plans
Electrical diagrams
Mechanical designs
DIY projects
Invention mock ups
Graphics and technical illustrations 
COMPATIBILITY AND FILE SHARING
ViaCAD software plays nice with others. ViaCAD is compatible with AutoCAD® with up-to-date DWG import and export capabilities. So your team will be able to work together without forcing everyone to be on the same brand of CAD software.
ViaCAD is also compatible with over a dozen popular CAD and Graphics formats, so you'll be able to deliver files that can be opened and edited by users of other popular design software.
ViaCAD provides compatibility with AutoCAD® DWG files
DXF/DWG versions from R12 to 2020
STL Import/Export
Adobe Illustrator® Import
PDF Import
SketchUp 2020 Import/Export
Collada™ (DAE) Import/Export
Complete support for Metric and Imperial units 
VIACAD 2D INCLUDES OVER 275 DRAWING AND EDITING TOOLS
Create precision drawings with the industry standard tools you expect, and some innovative ones that will absolutely delight you. Each drawing tool has multiple options for creating objects in your designs. Powerful tools such as rectangular and polar (circular) arrays help you create more precise and complicated patterns. A complete toolkit of trimming options is available to help you make modifications. The included 'Region Trim' will do in one click, what most programs take dozens of steps to achieve. 
Points, Lines, Arcs, Circles, Ellipses, Splines
2D Geometric and Dimensional Constraints to manage geometrical relationships between 2D shapes
Drawing tools provide multiple methods for creating
Copy/Move, Scale, Rotate, Mirror, and Stretch
Rectangular array with X and Y controls
Polar array with customizable angles and spacing
Trimming tools include Trim, Extend, and Break
Customizable Fillet and Chamfer
And much more! 
INTUITIVE DESIGN AND EDITING UTILITIES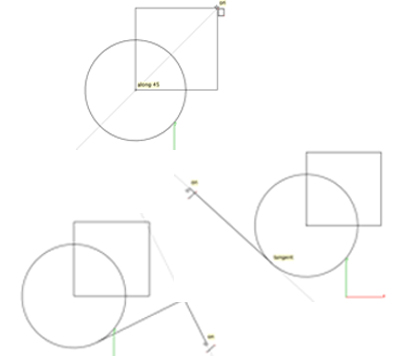 Drawing precisely is easy with ViaCAD! We have designed it to be user friendly and intuitive to work with.
The LogiCursor™ anticipates your next action and guides your cursor to potential point selections in the drawing.
The Gripper adds drag and drop capabilities to make editing designs easy breezy.
Customizable Grids add another level of ease by providing precision drag and drop in rectangular, polar (circular), and isometric layouts. 
PRECISION DRAFTING AND ANNOTATIONS
ViaCAD 2D is a robust design documentation tool with over 20 customizable dimension styles, including industry dimension formats. 
Want to import a 3D model you created in other software, so you can document it in ViaCAD 2D? You can do that with our Auto 3D to 2D feature that will create multiple 2D views.
Other great features to help you document and annotate your projects include:
26-dimension styles
Import bitmaps for logos and reference images
Spell check is provided for another level of accuracy
Single click Fills and Hatch 
ARCHITECTURAL PLANNING FEATURES
You can create scaled building drawings and room layouts with ViaCAD 2D.
For example, custom walls are drawn using thickness for different components, allowing you to present the real-world wall sizes and dimensions of the materials that make up the walls. 
Other great architectural design features include:
Walls are automatically trimmed at intersections
Custom wall components allow you differentiate interior and exterior walls visually
Insert intelligent doors and windows with "drag and drop" placement
Instant architectural detailing with automatic dimensioning or customize your own labels for doors and windows with callouts
BOM FRACTION MEASUREMENTS
The Bill of Material Create BOM feature has a new option to support fraction measurements. To use this feature, select the Attributes and BOM dialog box from the Tools menu. Select your objects and associated a data set such as CutList properties. Apply to selected. Now select the Create BOM option to create a table. In the BOM Settings dialog box, select the Decimals pull down option. And then Select Fractions to display measurements as factions of feet and inches.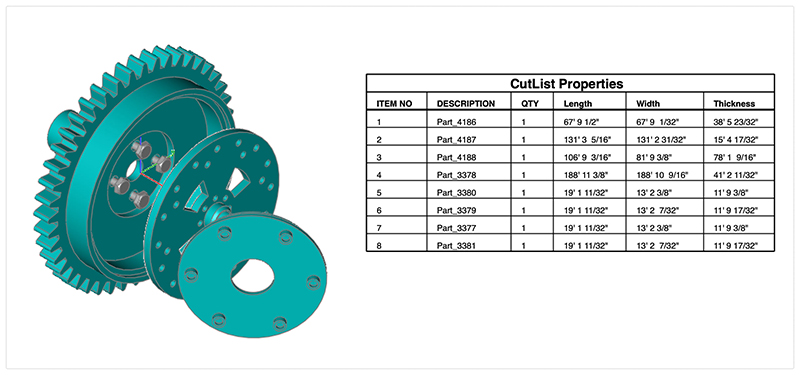 GRIPPER NON-UNIFORM SCALING
The Gripper has a new graphic widget to perform non uniform scaling via a handle. To use this feature, display the inspector and select the gripper properties tab. Then select "Enable Gripper". The non-uniform scale graphic is the red, blue, or green box display along the associated axis. Select, hold and drag over the box to scale along that particular axis.
Red scales along x
Blue along y
And Green scales along z
You can scale curves, surfaces, or solids. Use the data entry window to scale a precise amount.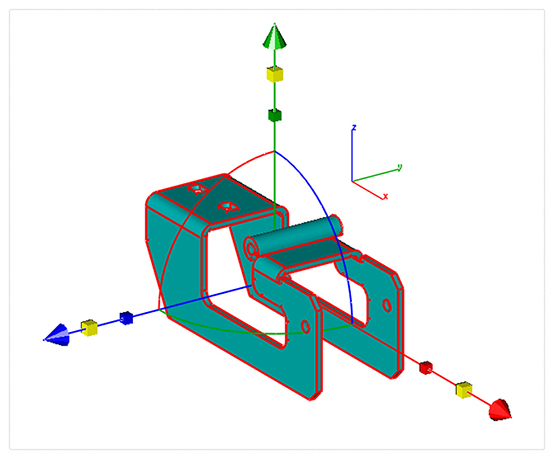 AREA DIMENSION
A new dimension tool was introduced to support area-based measurements. To access the Area Dimension tool tear out the dimension tool palette and select the area dimension tool icon. The area dimension works with collections of closed curves or polygons. There are two options accessed through the data entry window.
1. Leader Line Dimension
2. Text at Centroid
Select Pick Leader Line Dimension. And now select the collection of curves or polygon. Then select the arrow location and text location. Now change the area method to text at centroid. And select the polygon. The area dimension is associative to the curves originally selected. Modifying a curve will update the area dimension. The Area dimension also work with a collection of curves used in a constrained system. In this case, updating any dimension value, will update the area dimension.

ACIS MODELING KERNEL UPDATE
The core modeling kernel was updated to support a newer version from Spatial.  The new update provides greater increases in quality and robustness and improvements in modeling tasks such as booleans, blending, chamfering, sweeps, skinning, healing, and faceting functionality.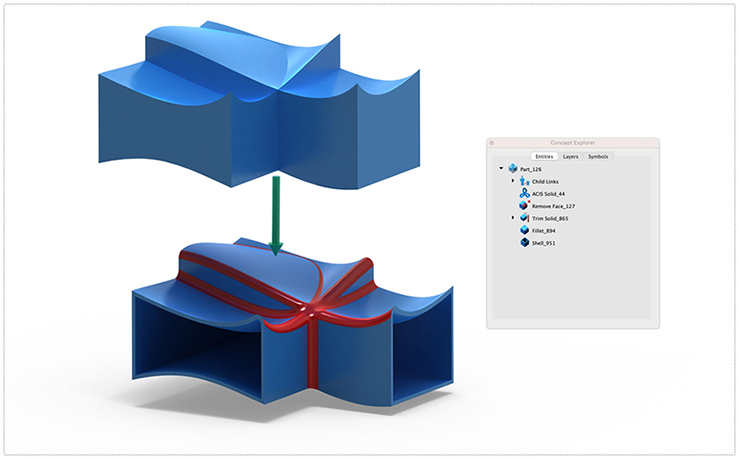 INTEROP UPDATE
SAT & SAB Updates 
The SAT and SAB data translators provide a neutral file format for precisely sharing curve, surface, and solid modeling data.  Third party app supporting SAT/SAB file formats include AutoCAD, Inventor, Fusion 360, SolidWorks, and SolidEdge.
2D PDF Export
The 2D PDF export is a new method of sharing vector and font-based data with other applications. Vector data such as Lines, arc, circles, and splines are supported. Additionally, text and dimensions annotations are supported. Line styles and pen weights are also supported. Surfaces and Solids are exported as wireframes.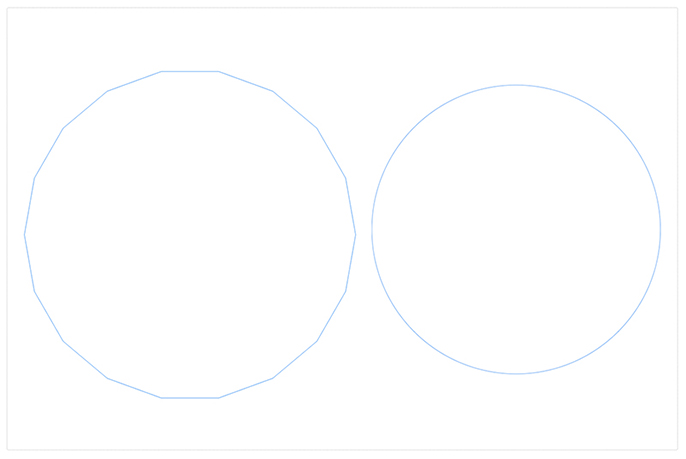 DWG ODA 23.5
The DWG, DXF, PDF, and DAE translators provided through the Open Design Alliance (ODA) were updated to support the latest enhancements and performance boasts.  Additionally, minor enhancements were made supporting sharing of text and dimension data.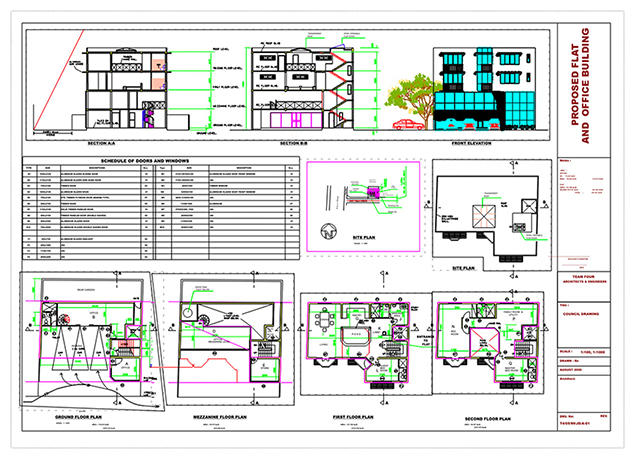 SketchUp 2022
The SketchUp import/export technology was updated to support the lasted SDK.   This includes support for newer versions as well as maintenance updates for sharing data between the applications.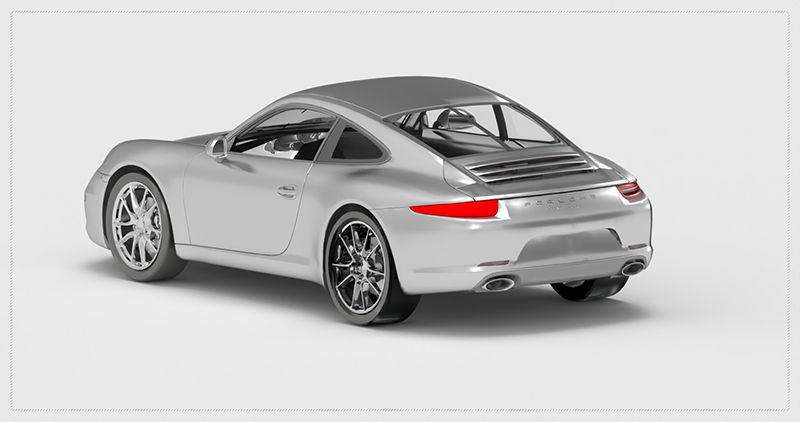 Number of Computers/Users

1 Computer

License Duration

One Time Purchase

Delivery Method

Instant Download

Compatible Operating Systems

Mac OS X El Capitan, Mac OS X Siera, Mac OS X High Sierra, Mac OS X Mojave, Mac OS X Catalina, Mac OS X Big Sur, Mac OS X Monterey, Mac OS X Ventura, Mac OS X Sonoma
Easy 123
Priced best and easy install process.....
Product works
product works as expected
Seamless transaction with known reliable product.
Seamless transaction with known reliable product.
Easy!
This was an easy, no hassle process for us older folks. I was a bit wary, but it went well and works perfectly.
Excellent Product
Great price and helpful for my daughter for her studies
great for what it does
User interface could be streamlined
great for what it does
User interface could be streamlined
great for what it does
User interface could be streamlined
great for what it does
User interface could be streamlined
A phenomenal product!
This does everything easily and simply! Highly recommend for Amateurs and Professionals alike!!
We offer a 90 day Refund Policy if the following requirements ARE met: 
1. The License Key(s) has not been activated by you. This is verifiable by us.
2. The Order is not greater then 90 days old.
In the rare case there is an error on our part including our advertising, order process, etc, this will also qualify for a refund.
Buyers remorse or Operating System incompatibility does not qualify for this exception. It is the responsibility of the buyer to confirm their Operating System is compatible with the Software prior to purchasing. The compatible Operating Systems can be found on the product page in question.
If the above requirements ARE NOT met:
That sale is considered final and cannot be refunded. 
It cannot be refunded because the License Key(s) has been activated by you and cannot be used again by anyone else nor can it be revoked
We understand that it is unfortunate for everyone when Software is purchased and the License Key(s) is activated by you but then the Software is unusable or unstable due to incompatible Operating System. This policy is here unfortunately due to rampant fraud and bad actors that ruin it for actual innocent mistaken buyers.
This is standard refund procedure for Computer Software no matter where you purchase it.
In review, ENSURE YOUR OPERATING SYSTEM IS LISTED AS COMPATIBLE.
This is the process to expect when Downloading your Software:
After you place your order, you will receive an Order Confirmation Email.
After your payment clears, you will receive another email that contains a link to access your Download page. This usually takes a couple minutes but may take longer in some instances.
If you cannot locate this email, please check your spam or junk folder and also ensure you are checking the correct email address.
After clicking this link, the Download page will contain a button to begin the Download of your Software. This page also contains your License Key(s).
Click the button to begin the Download process and follow the prompts.
During the Download and Install process, the software will at some point request you to enter your License Key(s).
Payment & Security
We Accept
Your payment information is processed securely. We do not store credit card details nor have access to your credit card information.