Product Overview

Compare Versions

Specifications

Reviews and Questions
Create professional, high-end graphics without breaking the budget
Looking for professional graphic designs that communicate your unique voice and business strategy to your clients and prospective customers? Let The Print Shop Professional assist you in all your graphic and communications needs.
The Print Shop is perfect for small- and medium-sized businesses, non-profit organizations, and self-employed entrepreneurs' anyone who doesn't have a big budget to spend on expensive marketing efforts. Choose from thousands of custom options that ensure a professional look for your marketing collateral, sales pieces, and fundraising efforts, while letting your business shine through.
Time-saving design
The Print Shop Professional saves you and your employees time when designing business pieces, simply follow these three steps.
| | |
| --- | --- |
| 1. Find the perfect design. Choose the right look from thousands of templates. | |
| | |
| --- | --- |
| | 2. Brand it. Bring in your business's brand by adding your business's photos, images, colors, logos, and calls-to-action. |
3. Print, share or advertise. Once your design is complete, print in-office or choose from a range of professional printing options for the final product.


New and updated features in The Print Shop Professional 6.0
Enhanced User Interface
Improved Ready Made Project Search
New Customized Print Options
Enhanced Print Wizard
Spell Check
New Automatic AutoSave
New Quick Access to Most Used Functions
Exclusive to Professional Version:
New Import Pages and Elements from other projects
New Import Custom Shapes
New Templates and Clip Art
Key features in The The Print Shop Professional 6.0
Edit your look with 9 new image effects
Automatically size an imported graphic to its original size
Print and design easily with new Avery templates
Easily resize and edit several objects at once
Add grids with our snap-to-grid function
Embed fonts when saving to PDF
Over 5000 new Royalty-Free images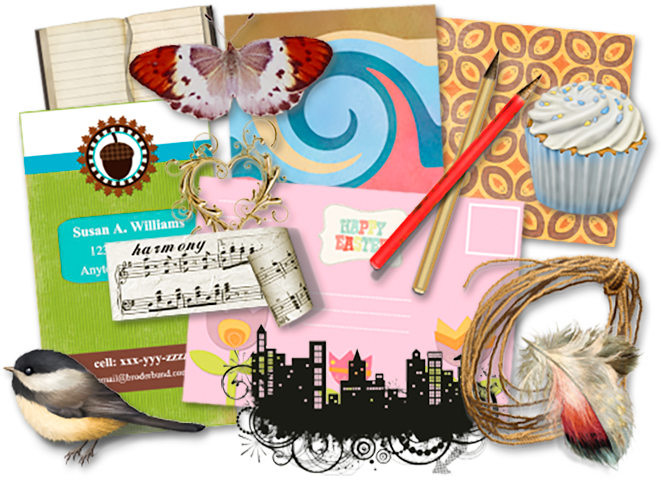 Build the business designs you need, including: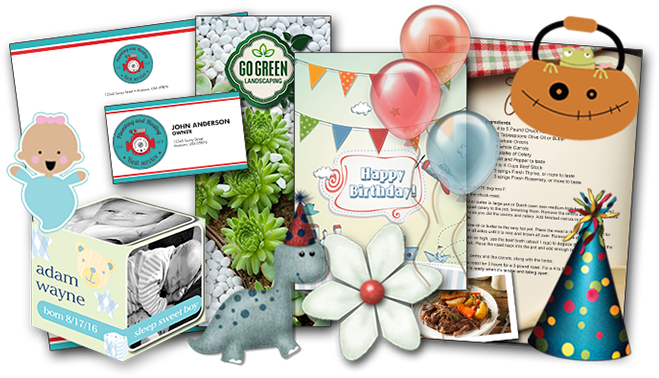 By the numbers
The sheer volume of options included in The Print Shop Professional means you can build anything your business needs. Choose from thousands of royalty-free templates to get your project started, and then customize with more than more than 10,000 royalty-free professional backgrounds and images. Need more options? Options for commercial use are nearly endless.
Designs tools for that professional finish
Have the perfect plan in place for all your business graphics? The Print Shop Professional is your small business partner for any design need.
Make our templates, images, and patterns yours with our photo editor and text tools to communicate your specialty and brand to your clients. Easily import personal photos and color correct, crop, and alter them in any way you need to elevate your design. With our easy design tools, you can add your own shadows and gradients, as well as build frames with our custom border maker. You can also import
Reaching out to a lot of clients at once? Manage all your contacts easily, from names and numbers to important dates, then merge the right information into your project.
Whether you are a small business, community organization wishing to reach out to members, or a wannabe designer looking to create impressive ad materials, The Print Shop Professional is incredibly flexible and the perfect tool for creating design magic.
Print Shop Deluxe
Print Shop Professional
New Features & Enhancements
Performance Enhacements!
✓
✓
Windows 10 Support!
✓
✓
Backward Compatability!
✓
✓
Updated User Interface
✓
✓
Import Pages or Elements of Saved Projects
✓
AutoSave Functionality
✓
✓
Spell Check
✓
✓
Import Custom Shapes
✓
Quick Access
✓
✓
Improved Search for Ready-Made Projects
✓
✓
Ready-Made Templates and Clip-Art
✓
✓
Print Selected Pages of Projects

✓

✓

Improved Print Wizard

✓

✓

More Read-Made Content!
Ready-Made Templates
4,800+
6700+
Ready-Made Templates (Royalty-Free)
✓
1100+
Clip Art and Images
193,000+
260,000+
Clip Art and Images (Royalty-Free)
✓
15,000+
Avery Templates
52
52
Project Types (Ready-Made)
25
25
Project Types (Blank)
15
15
Fonts
800+
800+
Compatibility for older versions
✓
✓
Advanced Image Editor
Freehand Drawing on Projects
Radiant Glow/Watermark Feature
Text Stretch / Word Balloons
Varsity Font (Most requested)
Format Compatibility
PrintMaster
The Print Shop

The Print Shop 23.1
The Print Shop 2.0
The Print Shop 3.0
The Print Shop 3.5
The Print Shop 4.0
The Print Shop 5.0

The Print Shop 23.1
The Print Shop 2.0
The Print Shop 3.0
The Print Shop 3.5
The Print Shop 4.0
The Print Shop 5.0

Import Layered PSD Images
✓
Personalization Features
Address Book
✓
✓
Mail Merge
✓
✓
Over 4000+ Plants
✓
Export Address Book
✓
✓
Import Address Book
✓
✓
Event Reminders
✓
✓
Design Features
Text to fill a shape
Photo-fill shapes
Set background to photo
Recolor Photos
Custom Border

✓

✓

Text Flow and Control Wrapping
Master Overlay (i.e. Master Page)
Paint Brushes and Styles
Custom Border Maker
✓
✓
Drop Shadows
✓
✓
Frames
✓

✓

Eye-Dropper Tool

✓

✓

Dynamic Gradient Fills

✓

✓
Transparency

✓

✓
Edit Shapes

✓

✓

Lock/Unlock Objects

✓

✓

Text Features
Create and Save Custom Text Styles
✓
✓
Linked Text Boxes
✓
✓
Text Flow Across Columns
✓
✓
Text Flow Around an Object
✓
✓
Sentiment Browser
✓
✓
Page Layout Features
Create from Scratch
✓
✓
Create from Ready-Made (i.e. Wizard)
✓
✓
Browse Ready-Made
✓
✓
Snap to Guide
Snap to Grid
Rulers
✓
✓
Page Numbering
✓
✓
Ready-Made Guides
✓
✓
Lock/Unlock Objects

✓

✓

Custom Guides

✓

✓

Tables

✓

Photo Editing Features
Crop
✓
✓
Crop to Shape
✓
✓
Red-Eye Removal
✓
✓
Spot Touchups
✓
✓
Depth of Field Control [NEW]
✓
One-Click Auto-Correct
✓
Freehand Crop
✓
Magic Wand Selector
✓
Quick One Click Tool Access (i.e. Hover Menu)
✓
✓
Web Features
Publish to HTML
✓
✓
Over-Sized Printing
✓
✓
High quality PDF Printing

✓

✓

Self-Help Content
User Guide
✓
✓
Videos

✓

✓
License Duration: Permanent
Delivery Type: Instant Download
System Requirements
| | |
| --- | --- |
| Supported Operating Systems | Windows 7, Windows 8, Windows 10, Windows 11 |
| Memory Requirement | 2 GB |
| Storage Requirement | 3 GB |
| CPU Requirement | 1 GHz and Faster |
| Display Resolution Requirement | 1024 x 768 |
| Internet Connection Required | Yes |
Print Shop Pro 6.0
Great product. So many things you can do with this! I will use it for years and years
Print Shop Pro 6
Instant download appears to be working fine. Thanks!
print shop
very good and easy to ujse
Payment & Security
Your payment information is processed securely. We do not store credit card details nor have access to your credit card information.
Consider adding the following
Items you recently viewed