SHARKCAD: BIGGER, BETTER, FASTER 2D/3D CAD SOFTWARE
Don't waste another minute on entry-level software you've outgrown. SharkCAD can give you professional quality CAD design tools that won't cost you an arm and a leg. Enjoy the flexibility of mesh-based modeling coupled with subdivision technology that will make creating conceptual drawings a breeze. SharkCAD also has 2D switching, so you can swim back and forth between 2D and 3D views as needed. 
SHARKCAD CAN HELP YOU DESIGN PROJECTS SUCH AS:
Architectural drawings
Remodeling plans
Inventions and patent designs
Prototyping with 3D printers
Mechanical drawings
Furniture design, woodworking, and cabinetry
Jewelry making
Musical instruments
Graphics and technical illustrations
Product and Packaging design
2D drafting, diagraming and schematic drawings
Custom manufacturing from CAD to CNC 

 
COMPATIBILITY AND FILE SHARING
SharkCAD software plays nice with others. SharkCAD is compatible with AutoCAD® and over a dozen popular CAD and Graphics formats, so you will be able to easily collaborate with other professionals.
SharkCAD provides compatibility with AutoCAD® DWG files
DXF/DWG versions from R12 to 2019
STL Import/Export for 3D printing
SVG Import and Export
3MF Import & Export
VMRL 2.0 Texture Support
OBJ Texture Support
Adobe Illustrator® Import
PDF Import
SketchUp 2019 Import/Export
Collada™ (DAE) Import/Export 
SINK YOUR TEETH INTO SOME OF SHARKCAD'S KEY FEATURES
Jump into the exciting world of 3D mesh modeling, coupled with 2D drafting tools, and you'll be hooked. Some of the features that make SharkCAD the best choice for professional CAD design:
Design complex organic shapes with extensive NURB surface modeling tools
2D Geometric and Dimensional Constraints to manage geometrical relationships between 2D shapes
Push/Pull Modeling allows 3D surfaces to be edited with your mouse and cursor
Powerful 3D editing tools such as blending, chamfering, and shelling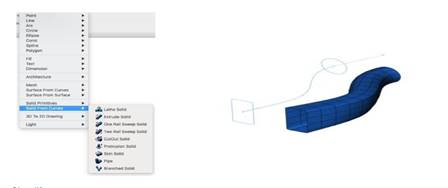 Architectural and woodworking tools such as rabbet, miter and dovetail joints
Extensive 2D drafting tools such as text, dimensions, 3D to 2D drawing, bill of materials
Multiple Viewports provide 2, 3 even 4 views of your design and drawing between them
Integrated Photo Realistic Rendering and support for Keyshot LiveLinking™
And much more! 
INTUITIVE DESIGN AND EDITING UTILITIES
Drawing precisely is easy with SharkCAD! We have designed it to be user friendly and intuitive to work with.
The LogiCursor™ anticipates your next action and guides your cursor to potential point selections in the drawing.
The Gripper adds drag and drop capabilities to make editing designs easy breezy.
Customizable Grids add another level of ease by providing precision drag and drop in rectangular, polar (circular), and isometric layouts. 
PRECISION DRAFTING AND ANNOTATIONS
SharkCAD is also a robust design documentation tool with over 20 customizable dimension styles, including industry dimension formats. 
Other great features to help you document and annotate your projects include:
26-dimension styles
Import bitmaps for logos and reference images
Spell check is provided for another level of accuracy
Single click Fills and Hatch 
ARCHITECTURAL PLANNING TOOLS
SharkCAD includes all the professional level architectural tools you and your team need to draft, print, and collaborate on projects together.
Architectural wall tools
Composite walls to show materials
Parametric doors and windows
Instant 3D walls, roofs, and floor slabs
Compatibility with AutoCAD® DWG files
ACIS®-based geometry means you are creating with the same technology as software that costs thousands of dollars 
WOODWORKING TOOLS
SharkCAD includes tools to speed up your woodworking projects. You can quickly create otherwise tedious joints such as Dado joints and miter joints.
Joints including rabbet, miter, and dovetails
Dado joints including options for through, stopped or blind
Edge treatments including cove, round, bullnose, Dupont, waterfall, Ogee, and custom
Tongue & Groove 
3D MODELING TOOLS
SharkCAD provides powerful solid modeling technology found in many higher-end products. Additionally, SharkCAD delivers surface modeling tools to expand design capabilities.
Feature-based History Tree for editing
A complete design tool with extrusions, Booleans, surface modeling for more complex smooth surfaces
Precise geometry suitable for 'concept to manufacturing'
Associative surface modeling 
3D PRINTING TOOLS
SharkCAD includes 3D printing tools to prepare and validate your designs to make them 3D printer ready. 
3D PRINT CHECK
Checks for print viability, displaying warnings or errors to the user.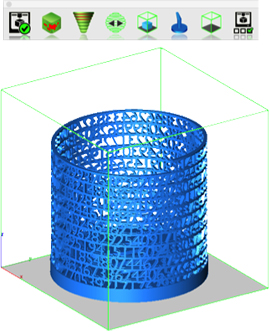 SURFACE NORMALS CHECK
Facet normals define the inside and outside areas of a part. If facet normals are pointing the wrong way, the 3D printer may have problems creating the part. This will check for problems and we have several commands that can help you fix it.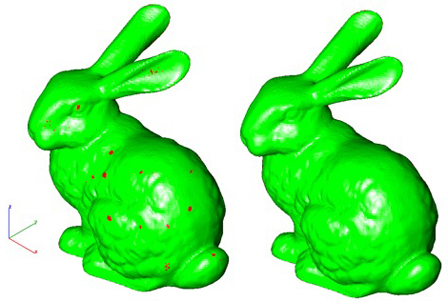 OVERHANG ANALYSIS
This will help you visually inspect modeling areas that may require structural support for 3D printing. Meshes, surfaces, and solids facets normals are compared to the work plane direction. Angles that are less or equal to 45 degrees are highlighted as red.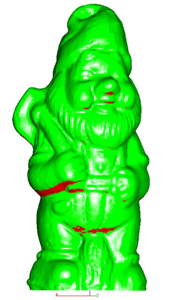 WALL THICKNESS ANALYSIS
This tool provides a means to visually inspect modeling areas that may be too thin for 3D printing. Meshes, surfaces, and solids facets are examined using ray intersections.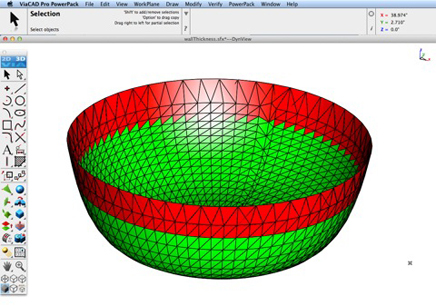 PREVIEW SLICES
This interface will help you to slice models given a direction and thickness. The dialog box allows for animation through the slices and single-stepping. Use to verify that a part has closed, non-overlapping sections, a requirement for 3D printing.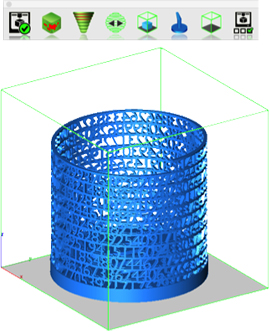 AUTO POSITION
The Auto Position tool translates the model to the positive x, y coordinate system at z=0.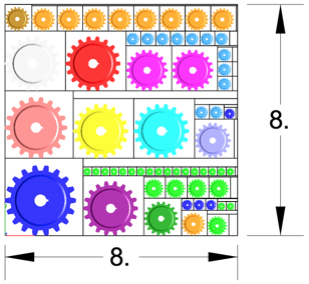 SUPPORT STRUCTURE
Manually adds geometry to support material as it is created by the 3D printer. Support structures controls, include Attach Radius, Midpoint Radius, Base Radius, Base Thickness, and Drag base and midpoints to modify structure location.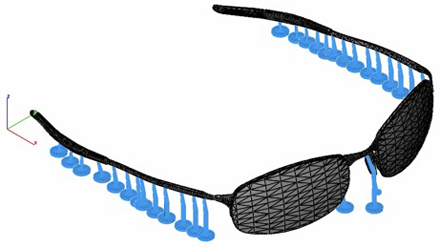 SHOW PRINTER VOLUME
Toggles the boundary of the default 3D Printer. The volume is defined within the Printer Definitions dialog box.
PRINTER DEFINITIONS
Sets key parameters of the 3D printer, including length, width, and height of the volume accessible by the printer. The parameters in the Printer Definitions dialog box are used for commands such as 3D Print Check and Auto Position.
SHARKCAD PRO VERSION 12 IS HERE!
You are going to love the new features we have included in our latest release.
POWERPACK NOW INCLUDED!
SharkCAD v12 is packed to the gills with new features. We took our popular PowerPack add-on and baked it into our version 12 release at no additional cost to you. That adds a collection of over 70 new tools including 3D printing repair tools, new modeling tools and general utilities that will increase productivity and make your existing and future designs 3D Printer ready.
Read about some of our most exciting new features below.
3D DESIGN ADVANCEMENTS
SPLIT MESH
This tool will divide a mesh into two portions based on a cutting plane. Split Mesh is an ideal tool for those working with facetted data along with 3D printing manufacturing processes.
MESH BOOLEANS
This advancement provides a means to add or remove material from a mesh body. Previous versions only allowed Boolean operations on ACIS based solids. Now with the introduction of mesh Booleans, you can add/remove material imported from STL, OBJ, 3DS, and SketchUp.
HEIGHTMAP TO 3D MESH
This will help you convert a 2D image into a 3D object. The height is extracted from the color components by applying a grayscale conversion and mapping the results into a user supplied height value.
MESH TO ANALYTIC TO CONVERT MESH DATA INTO PRECISE SOLIDS
This tool converts manifold, water tight, and facetted models into solid models with options to simplify into analytical shapes. Suitable for converting low polygon models (<100K) into solids for modeling operations as well sharing to other apps using STEP and IGES translators.
CURVE, SURFACE, AND SOLID MODELING TOOLS
You will have greater control when editing with new tools such as: repair profile, simplify profile, show surface free edges, remove duplicate entities, remove zero length curves, and simplify solid.
WRAP
Our new Wrap tool will help you place text, company logos, or complex 2D patterns onto 3D surfaces. The results are perfect for imprinting, embossing, or engraving.
PHOTORENDER SPOTLIGHT
This new visualization tool creates a soft shadow directly under a group of objects. This is an alternate to the default PhotoRendering method that uses a distant light offset.
WEIGHT AND VOLUME TABLES
Whether you're designing an aircraft, automobile, or picnic table, weight is key control parameter in a design. Tracking the weight of materials is a key control parameter in design. V12 introduces a new Bill of Material (BOM) attribute specific for creating a summed weight table.
SPUR GEAR GENERATOR
Creates a Spur Gear based on number of teeth, module, pressure angle, clearance, and involute samples. In addition to creating the 2D curve outline of the gear, an extruded 3D solid model is added to the drawing.
UNROLL
Unroll will flatten a developable surface such as a ruled surface into a shape that lies in the XY plane.
DRAFTING AND ANNOTATION UPDATES
BEST FIT LINE AND BEST FIT CIRCLE
Great for tracing precise curves over rough sketches. This tool will "best fit" a line or circle from a sample collection of points.
Angular Tolerance Updates
The Angular Tolerance interface has been updated to dynamically provide input from the Inspector dialog box.
USABILITY IMPROVEMENTS
SAVE LAYERS WITH VIEW
Now you have the ability to save layers associated with view orientations.
AUTOLAYER
AutoLayer is a tool that will automatically assign an entity to a layer based on the same shape or by entity name. Use AutoLayer to help organize files imported from other applications that do not support layering.
PREVIEW LAYERS
The Preview Layers utility provides a user interface to rapidly step through layers. The play button will animate through the layer start and end region. The step forward and backward buttons manually provide control through the layers.
ISOLATE LAYER
The Isolate Layer command sets the display layers to objects you select.
CHANGE FILE UNITS
There are many file formats that do not contain unit settings that include STL, OBJ, PLY, 3DS and older DXF files. The Change File Units command allows you to quickly change a file scale based on Units or Scale Factor.
SHOW ONLY BY NAME
The Show Only by Name tool displays just the entity with the provided name. This tool changes the Show/Hide flags of the entity.
RENAME
The Rename tool provides a way to rename large number of entities. This tool is especially useful for renaming entities imported from external applications. For example, Inventor attaches the full assembly representation to the part name.
SELECT SAME
The Select Same tool provides mask options for selecting objects including:
Shape
Color
Entity Type
Line Font
Text Font
ASSORTED COLORS
The Assorted Colors tool assigns up to 20 colors per group of entities selected. The tool is useful for visually identifying file import and other individual parts.
REPEAT PREVIOUS COMMAND
This "right click" feature will save you lots of time by maintaining a list of last-used drawing commands. Select an item in the list to quickly change the current tool.
INTEROPERABILITY UPDATES
Now you can work with file types from these other programs:
PDF Import
Adobe Illustrator Import
SketchUp 2019 Import/Export
Direct file compatibility with SolidWorks, SolidEdge™, NX, Inventor, ProE, and CATIA™.
Collada (DAE) Import/Export
Payment & Security
Your payment information is processed securely. We do not store credit card details nor have access to your credit card information.
Items you recently viewed