Product Overview

Specifications

Compare Versions

Reviews and Questions
PUNCH! HOME & LANDSCAPE DESIGN PROFESSIONAL OVERVIEW:
DESIGN BEAUTIFUL SPACES INSIDE AND OUT!
This complete home and landscape design software suite combine all the materials, tools, textures, furnishings and accessories to help make building and landscaping projects a stunning reality. Use Punch! Home & Landscape Design Professional to quickly update or design entire homes and commercial buildings; plan kitchen renovations, bathroom renovations, basement remodels, landscape; create outdoor living spaces, decks, patios, pools and get fast results for professional-level or serious DIY home projects.
Create new home designs, kitchen renovations, bathroom updates and landscapes or use professional designer quality layouts that you can drop into your projects.

The Professional Series contains a wealth of tools and top features, perfect for the Designer, Contractor and serious DIY person who wants to design a new home, landscaping, renovate, remodel and more.

New tools, improved drawing methods, easy-to-use interface, and dynamic search tool makes it easy to design your project and find the materials you need.

Choose from contemporary to modern style home plans from coast to coast, as well as thousands of materials textures, furnishing, and accessories to complete your 2D and 3D designs. Tips for "Building Green" are included with a selection of green objects and materials.

Includes how-to video tutorials, user forum and technical support to provide help when needed.
HELPFUL HELP FEATURES:
Punch! Home & Landscape Design Professional helps to quickly create 3D home plans and 2D home plans for kitchens, baths, and landscapes with professional designer quality layouts that quickly drop into projects. Feature-packed v21 offers thousands of materials, textures, furnishings, and accessories and makes it's even easier to find those materials with a dynamic search tool that quickly searches for the perfect furnishing, paint, texture or accessory with ease. V21 goes the extra environmental mile with tips for "Building Green" that includes a selection of green objects and materials. To help with all this designing power, v21 also comes with an Integrated Interactive Help System to make finding and using the right tool easier than ever.
What's New!
2D PLAN DETAILING:
Punch v21 now provides extensive detailing tools suitable for annotating site plans, floor plans, elevation views, and providing other details required for proper construction and permits. These new tools include a Callout tool, Level Lines, Plan, Window and Door labels, and Note Markers. In addition, numerous improvements to line styles and fill patterns provide a greater ability to annotate and call out regions and areas of the drawing. All essential in accurately communicating design intent.
NEW CALLOUT TOOLS:
Define portions of the building model as details, sections, and elevations.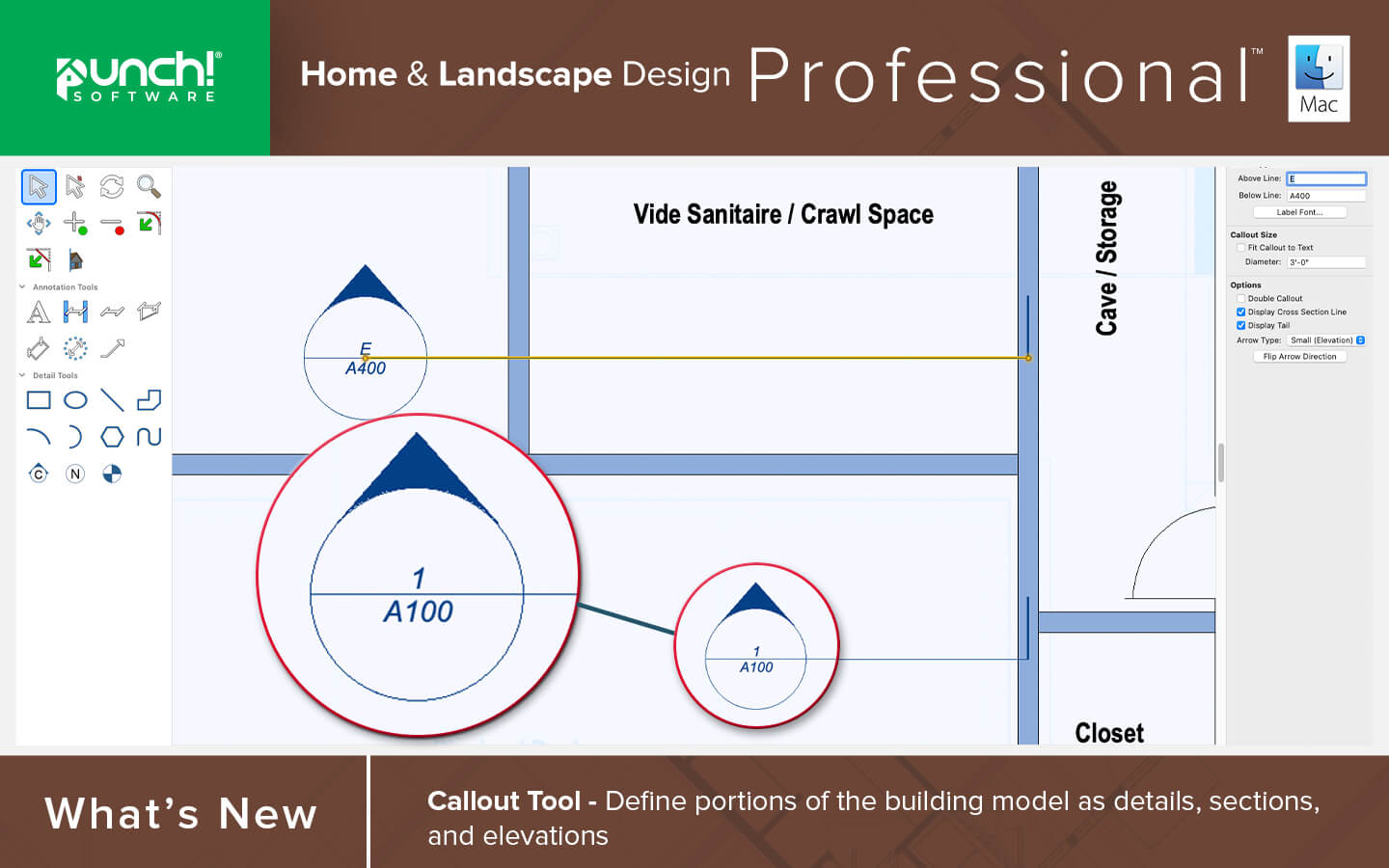 LEVEL LINES:
Add labels to drawing to callout important structural elevations when creating construction documentation.
LINE STYLES:
Ability to add labels to line styles.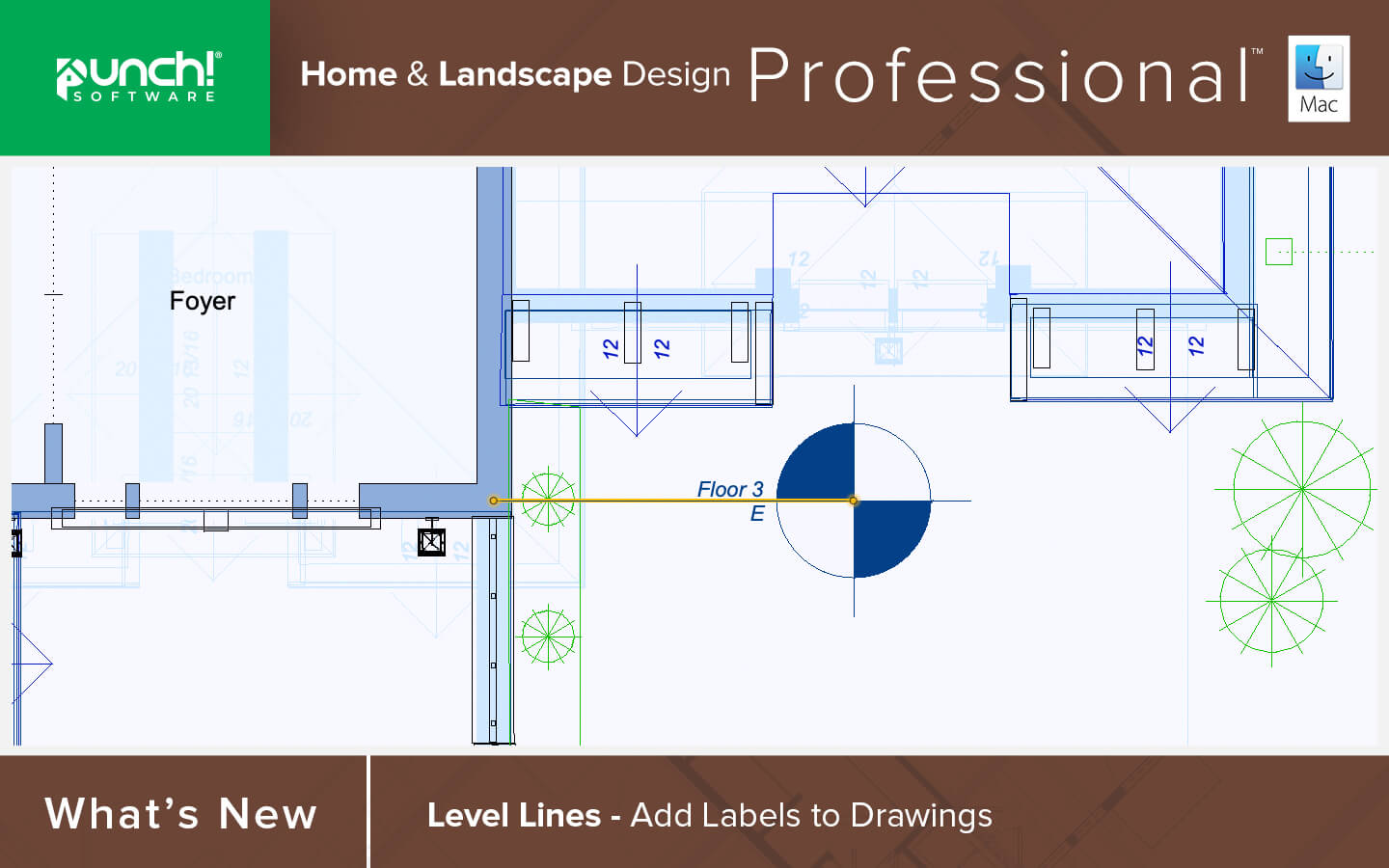 NOTE MARKERS:
Identify building specifications such as framing requirements, pier locations, etc.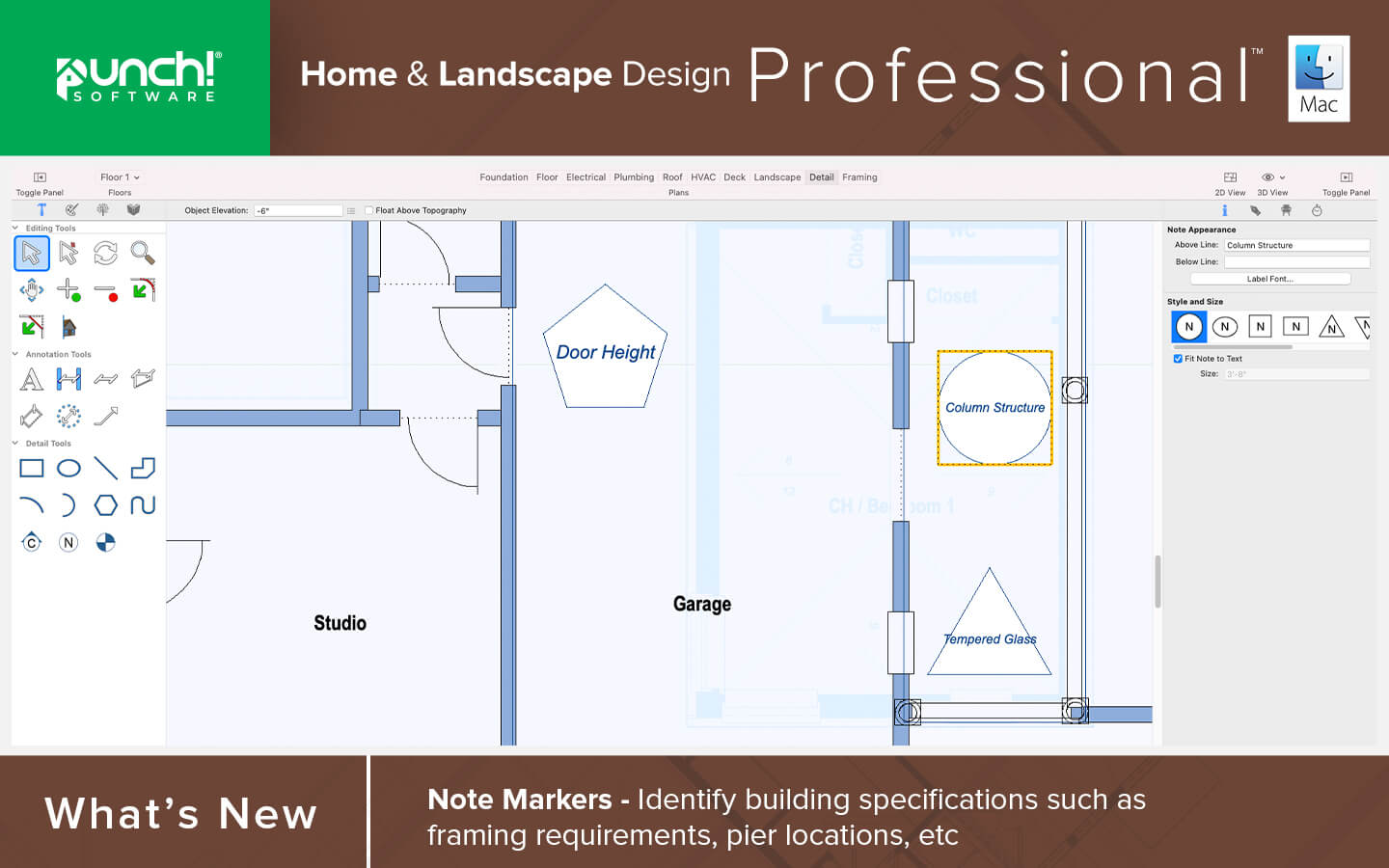 PLAN LABELS:
Add title lines to display Plan names; customize text alignment and font style.
WINDOW AND DOOR LABELS:
Add custom labels for use, for example, in identifying manufacturer name or model/part number.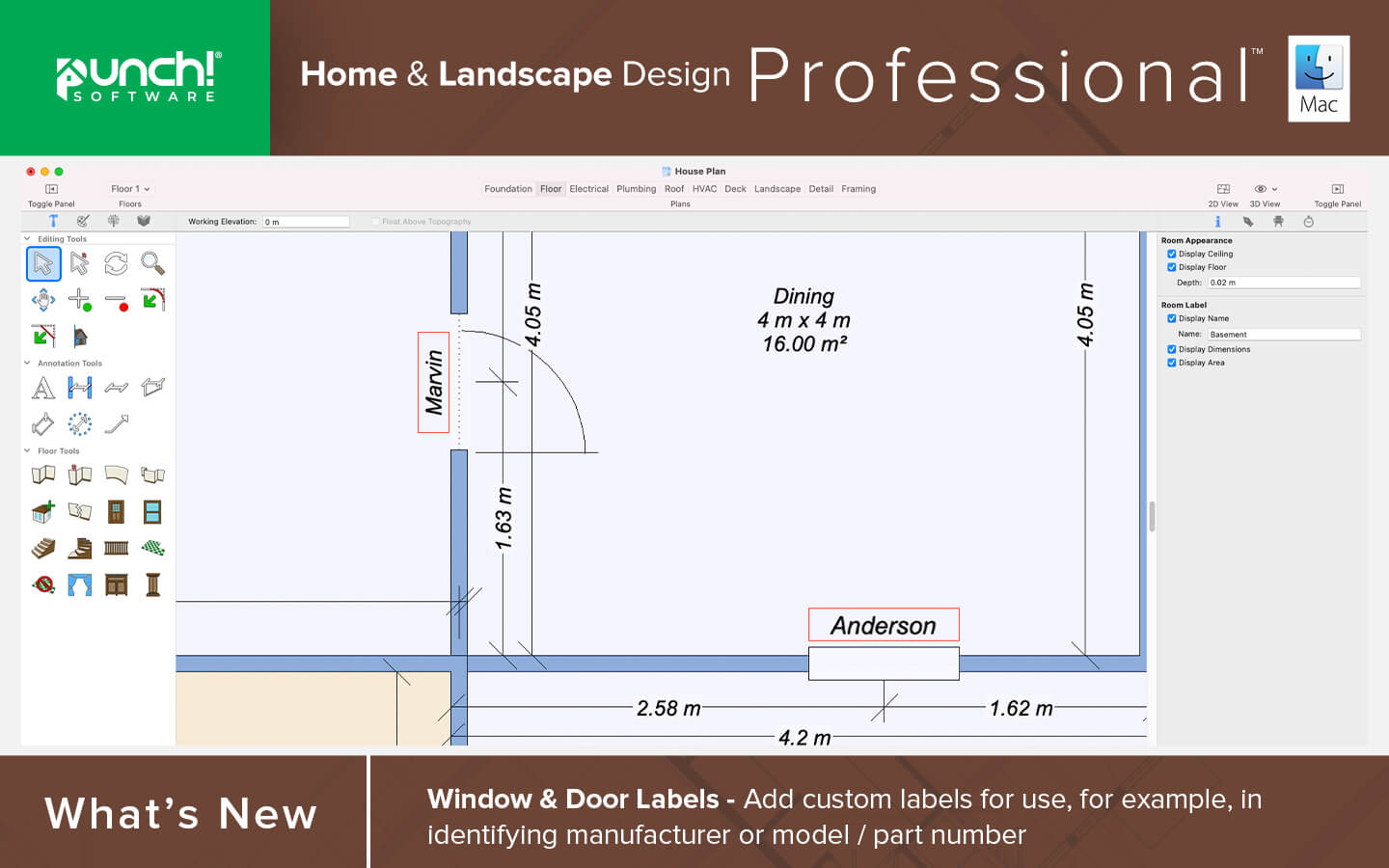 2D OBJECT DETAILING:
FILL PATTERNS:
Newly added patterns, and a new rotate pattern option. 
FILL PATTERN LIBRARY:
Expandable through downloadable content.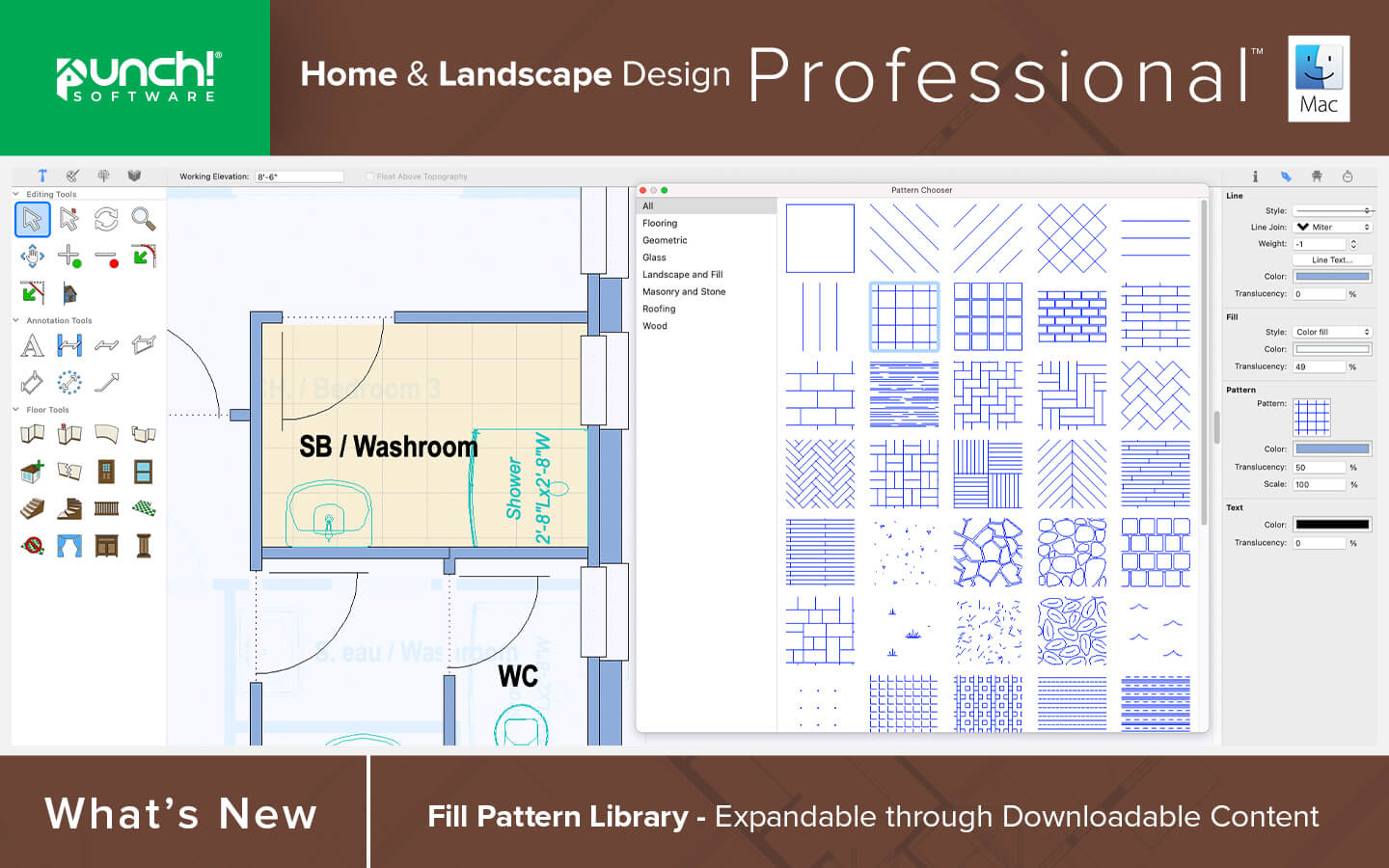 3D EDITING WITH ALL NEW PROFESSIONAL CAD TOOLS: 
3D CUSTOM WORKSHOP PRO:
This new Punch! PowerTool adds over 90 professional CAD tools to Punch! Home Design. Its diverse feature set, consisting of 2D drafting, 3D modeling, editing, and data sharing tools allow the user to create virtually any object to complement their home design project. Objects created can be saved to your library and used with any of your home and landscape designs.  Custom Workshop Pro can bring in popular CAD file formats such as SketchUp®, 3D Studio®, 3MF, STL, DAE, PLY, as well as Adobe® Illustrator®, PDF, SVG, TIFF, BMP, PNG, and JPG.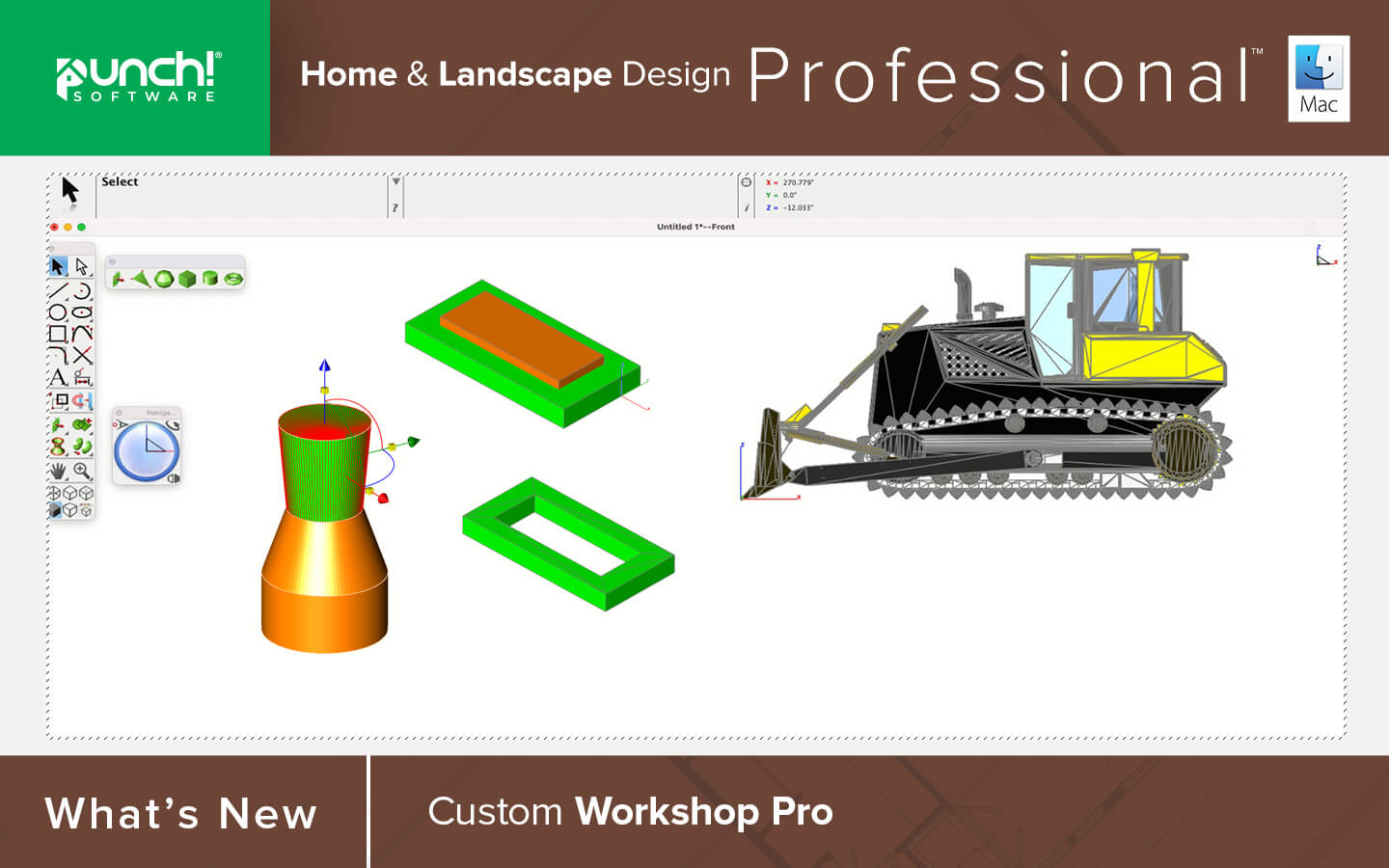 Some of the features included in Custom Workshop Pro:
2D Drafting Features:
Line Tools (8 methods)

Arc Tools (5 methods)

Circle Tools (7 methods)

Ellipse Tools (5 methods)

Polygon Tools (7 methods)

Bezier Spline Tool Fillet/Chamfer (5 methods)

Spline Fill
3D Modeling Features:
Primitives (6 types)

Extrude, Lathe, Skin, Cover

Booleans (Add, Subtract, Intersect)

Subdivision (Add Loop, Fill, Bridge, Inset)

Split & Slice
Modification and Editing:
Align, Group, Ungroup, Copy, Paste

Transformations (Translate, rotate, scale, mirror, along path)

Arrays (Polar and Rectangular)

Magnet Tool
Data Sharing:
DWG/DXF, SketchUp®, 3D Studio®, 3MF, STL, DAE, Ply Adobe® Illustrator®, PDF, SVG, TIFF, BMP, PNG, JPG
Usability Improvements:
LogiCursor anticipates your moves with visual feedback Gripper anticipates your moves with visual feedback View Navigator, Zooming, Panning, Orbits Inspector for parameter edits Keyboard shortcuts Layer Manager, Select Mask, Show/Hide (7) Verify Distances, Perimeters, Areas, Volumes, and Angles Drag and drop texture library
EVEN MORE FREE CONTENT!
2D HOUSE PLANS:
Save hours of design time by using professionally drawn single and two-story house plans as 2D tracing layers which can then be automatically viewed as a 3D design. 500 plans from which to choose!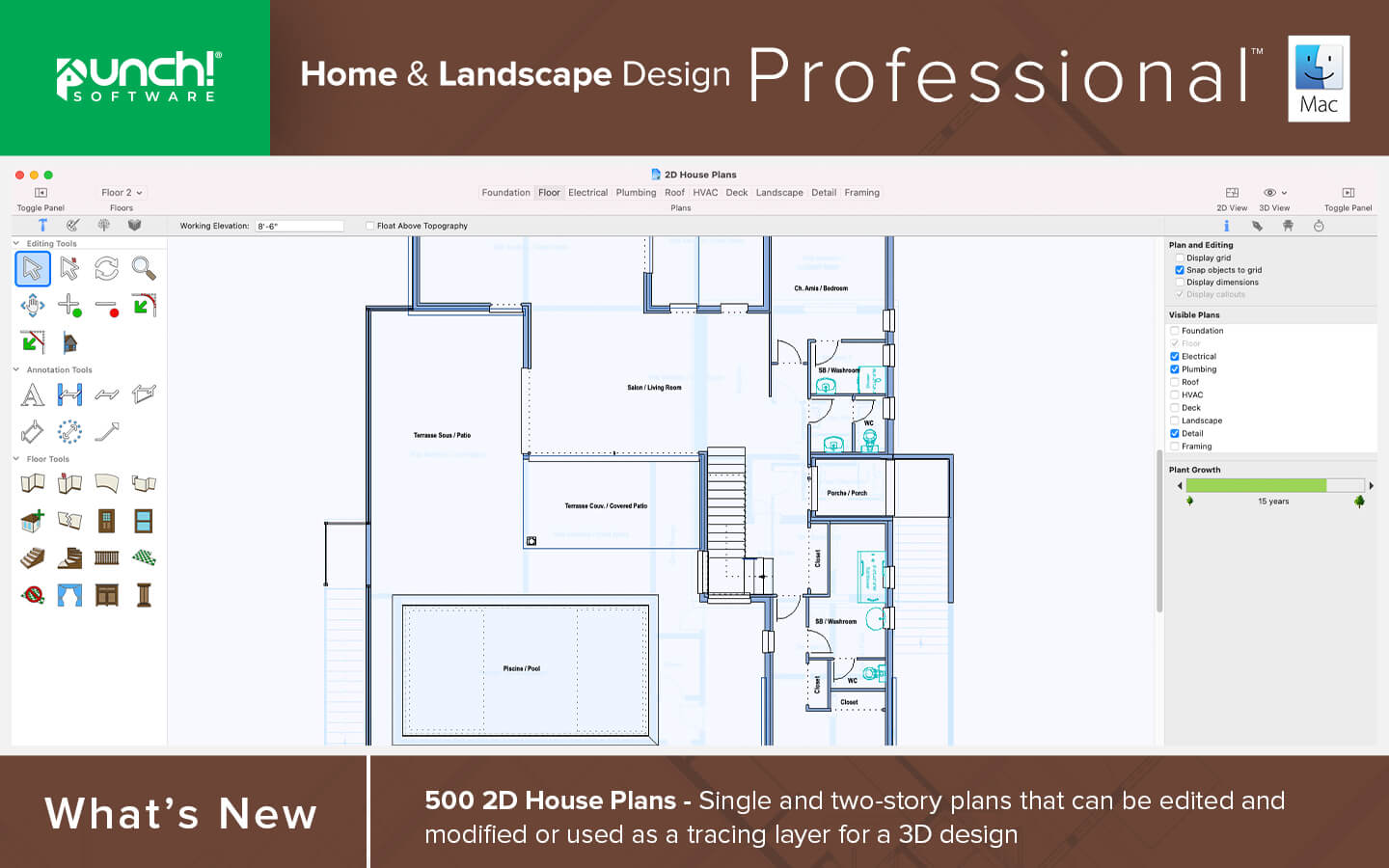 INTEROPERABILITY SUPPORT FOR POPULAR 3D FORMATS:
3D EXPORT SUPPORT:
OBJ with Textures and STL are now available as file export options.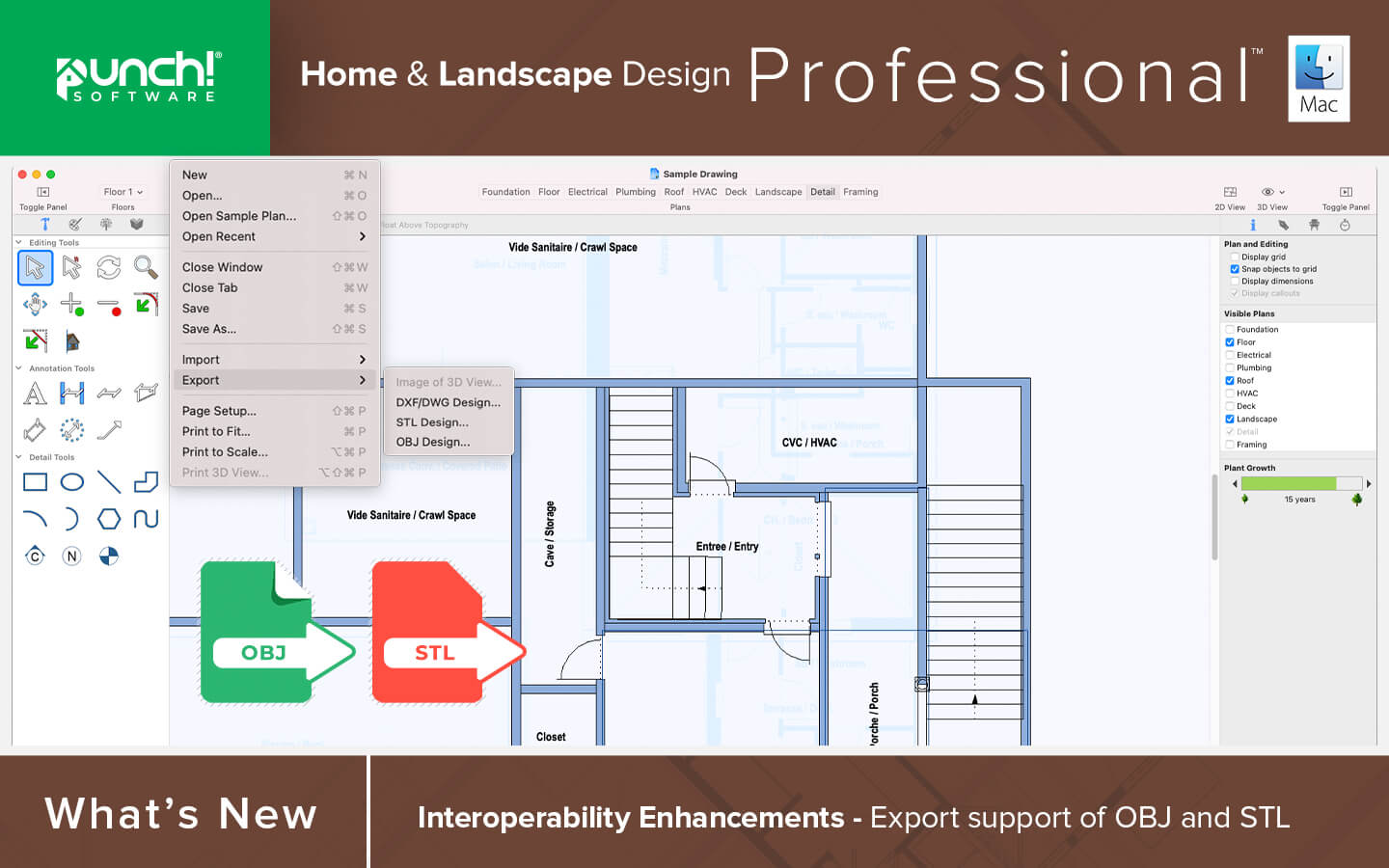 FOUR WAYS TO START YOUR PROJECT:
QuickStart - Drag & drop individual rooms to easily create your basic floor plan.

Professionally Designed Plans - Need inspiration or an instant starting point? Utilize our editable house plans to fast track your design or browse them for room layout ideas.

Floor Plan Trace - Trace a favorite floor plan, or use one you've sketched.

PhotoView - Take pictures of the inside or outside of an existing house and easily add design features and details.
AUTO ROOF GABLE:

Instantly add gable roof panels.
AUTO FRAMING:
Select metal, wood or custom framing options, including custom roofs, walls, and floor joists.
AUTO ROOF GABLES AND ONE CLICK DORMER TOOL:
Instantly add gable walls and roof panels.
WINDOWS, DOORS & WALLS:
Select from an extensive library of door and window styles. Customize the size, grille style, and other parameters to fit your plan.

Use window and door designer power tools to create custom doors.
ADD ROOMS AND DECORATE WITH ONE MOUSE CLICK!
Drag and drop room creation.

SmartWand™ technology adds paint or other material applications to a specific wall, room or your entire house with one mouse click.
VIEW IN 2D, ELEVATION AND AERIAL:
| | | |
| --- | --- | --- |
| | | |
Specs:
License Duration: Permanent
Delivery Type: Instant Download
Architectural
Professional
Studio
Essentials
Home Design
Advanced 2D Drawing Engine
✓
✓
✓
✓
Custom Rich Text
✓
✓
✓
✓
3D Cutaway Tool
✓
✓
✓
Double Doors and Mounting Options
✓
✓
✓
✓
Advanced Floor Management
20 floors
12 floors
6 floors
4 Floors
Floor Plan Trace
✓
✓
✓
1-Click Custom Room Additions
✓
✓
✓
Online Training Center
✓
✓
✓
✓
Foundation Planner
✓
✓
✓
HVAC Planner
✓
✓
✓
Electrical Planner
✓
✓
✓
✓
Estimator with Room Estimating
✓
✓
✓
✓
Instant 3D Views
✓
✓
✓
✓
Automatic and Custom Roof Tools
✓
✓
✓
Automatic Gables
✓
✓
Dormer Tool
✓
✓
Aerial Room View (3D)
✓
✓
✓
✓
Metric and Imperial Measurements
✓
✓
✓
✓
Framing
✓
✓
Baywall
✓
✓
✓
Curved Wall Tool
✓
✓
✓
Room Addition Tool
✓
✓
✓
Interior Design
Included 3D Objects*
5469
5469
TBD
TBD
Over 7640+ Materials
✓
✓
✓
✓
Column Tool
✓
✓
✓
PhotoView
✓
✓
✓
✓
Accessories / Window Treatments
✓
✓
✓
Décor Column Tool
✓
✓
✓
✓
Cabinet Tool
✓
✓
✓
✓
Cable/Phone/Thermostat
✓
✓
Security System Tools
✓
✓
Home Automation Tools
✓
✓
Home Theater
✓
Landscape Design
2D Plant Symbols
✓
✓
✓
✓
Customizable Plant Sizing
✓
✓
✓
✓
Over 4000+ Plants
✓
✓
✓
✓
Landscape and Patio Groupings
✓
✓
✓
✓
Topography Tools
✓
✓
✓
✓
Deck Layout Tools
✓
✓
✓
✓
IntelliDeck Tools
✓
✓
✓
Custom Edging and Bed Borders
✓
✓
Outdoor Kitchen Custom Cabinets
✓
✓
Global Sun Positioning
✓
✓
✓
Site Planner (Property Line Coordinates)
✓
✓
Other Features
Library Navigation and Preview Control
✓
✓
✓
✓
3D Panning
✓
✓
✓
✓
Point Selection Highlight Guides
✓
✓
✓
✓
Drag and Drop into 3D
✓
✓
✓
✓
Multiple Monitor Support
✓
✓
✓
✓
Realmodel
✓
✓
✓
✓
Elevation Editor
✓
✓
✓
Import DXF/DWG (2D)
✓
✓
✓
✓
Export DXF/DWG
✓
✓
✓
✓
2D Symbol Library
✓
✓
✓
Visualization
2D
✓
✓
✓
✓
3D
✓
✓
✓
✓
3D Panning
✓
✓
✓
✓
3D Animation
✓
✓
✓
✓
Room View
✓
✓
✓
Cutaway
✓
✓
✓
Elevation
✓
✓
✓
✓
Aerial
✓
✓
✓
Saved 3D Viewpoints
✓
✓
✓
Clearview/Wireframe
✓
✓
✓
Interoperability
New - OBJ File Export
✓
✓
✓
✓
New - STL File Export
✓
✓
✓
Other New Features
CWPro
✓
✓
Line Text Styles
✓
✓
✓
✓
Expandable Fill Patterns
✓
✓
✓
✓
Lightworks™ Photo Rendering lighting tools
✓
Callout Tool
✓
✓
Level Lines
✓
✓
Plan Labels
✓
✓
Note Markers
✓
✓
✓
✓
NEW Online 360° Viewer
✓
✓
✓
✓
2D House Plans
1000
500
250
Payment & Security
Your payment information is processed securely.
Consider adding the following
Items you recently viewed