Product Overview

Reviews and Questions
PUNCH! HOME & LANDSCAPE DESIGN ESSENTIALS OVERVIEW:
Designing that dream home has never been simpler! Whether designing from the ground up; remodeling; or renovating; Punch! Home & Landscape Design Essential will help bring that dream home to life! It's easy to get started with the QuickStart feature that can quickly drag and drop rooms to complete the layout.
Create your own home design plan to renovate; redecorate; remodel or update your home inside and out.
Save time and money by visualizing your designs in 2D and 3D and estimating costs before you begin.
Includes how-to video tutorials, a user forum, and technical support to provide help when needed.
Punch! Home & Landscape Design Essential includes an integrated interactive help system to make finding and using the right tool fast and easy for professional or serious DIY home projects. It also comes with helpful training center video tutorials and technical support to ensure the process is as enjoyable as it is efficient.
What's New!
2D PLAN DETAILING:
Punch v21 now provides extensive detailing tools suitable for annotating site plans, floor plans, elevation views, and providing other details required for proper construction and permits. These new tools include Window and Door labels, and Note Markers. In addition, numerous improvements to line styles and fill patterns provide a greater ability to annotate and call out regions and areas of the drawing. All essential in accurately communicating design intent.
LINE STYLES:
Ability to add labels to line styles.
NOTE MARKERS:
Identify building specifications such as framing requirements, pier locations, etc.
WINDOW AND DOOR LABELS:
Add custom labels for use, for example, in identifying manufacturer name or model/part number.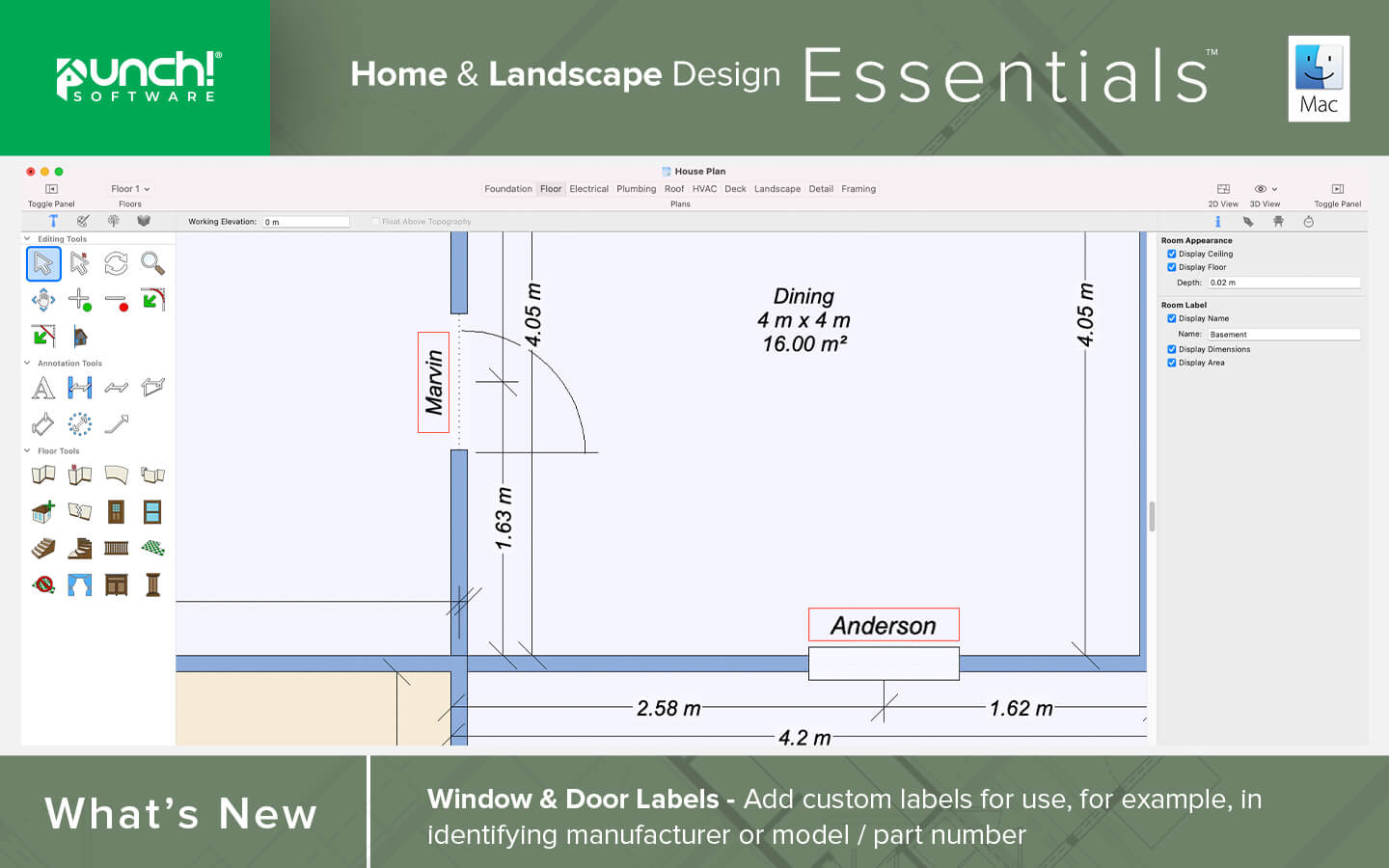 2D OBJECT DETAILING:
FILL PATTERNS:
Newly added patterns, and a new rotate pattern option.
FILL PATTERN LIBRARY:
Expandable through downloadable content.
PLANT LIBRARY:

Includes a full selection of flowers, shrubs, and trees you can add to your design. You can also add your own favorite plants to the database!

PLANTFINDER:

PlantFinder'Ñ¢ searches plants for your area, using parameters you specify, ensuring growing success.

Sorting feature lets you select growing parameters, international zones, sunlight, climate, water, and soil conditions.

Photo-realistic images of real-world plants that can be viewed from any angle.

Color-coded zone maps make plant selection easy and foolproof.
PLANT GROWTH:
Plan smart! Plan your design and see it grow over time. Perfect for previewing shade.
HARDSCAPES:

Build dramatic retaining walls that define and accent your home. Choose stone, brick, or other materials. Then add your plantings to finish the look.



Payment & Security
Your payment information is processed securely. We do not store credit card details nor have access to your credit card information.
Consider adding the following
Items you recently viewed