Pinnacle Studio 20 Standard - Instant Download for Windows
$29.00 $59.95
Unavailable
Number of Computers: 1 Computer

Delivery Method: Instant Download

Support: Lifetime Support from Brand at no extra cost

License Type: Permanent (One Time Purchase for Life)

Compatible Operating Systems:

Windows 7
Windows 8
Windows 10
Windows 11
Consider Download Protection

Times have changed with how Computer Software is sold. While downloading software has its benefits, it does raise concerns with how you can reinstall the software in the future if you need to in case of computer failure or loss. That's why we have developed the Download Protection Program.

You can always download your software from our Website for up to 30 Days from purchase date for free. However, with the Download Protection Program, you can download it anytime you need to for as long as you are subscribed. You can Cancel at Anytime.

You can add Download Protection to your order after you add this item to your cart.

Keep in mind you can always keep a backup of your software yourself and this Protection is not required.
Powerful, creative video editing software
Create movies that impress with a video editor that combines pro-level editing and unlimited creativity--Pinnacle Studio 20. Start your project with a themed template or edit on the 6 track timeline. Include footage from two cameras with multi-camera video editing and add eye-catching animations with new Stop Motion Animation. Add style with 1,500 2D/3D effects, amazing titles and a custom-fit soundtrack. Then share your movie online, export to popular devices or create polished DVD projects with 20+ menu templates.
New!

Stop Motion Animation

Enhanced!

Multi-camera editing

Enhanced!

Multi-camera editing
6-track, HD editing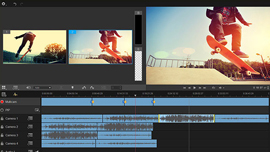 Multi-Camera Video Editor Enhanced!
Work with footage from 2 cameras to create more dynamic videos. The Multi-Camera Video Editor lets you screen your footage, switch angles, cut and delete, and add transitions. Align clips automatically with Audio Syncing or use markers, date/time or manual syncing. Even use your multi-camera results to create a Picture-in-Picture effect.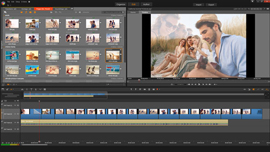 Drag and Drop HD Video Editing
The SmartMovie tool is like an automatic video editor, creating stunning movies for you in a snap. Just drag-and-drop the videos, photos and music you want to see in your project, then let Smart Movie do the work. Preview your movie and edit in the timeline to further to customize your project. Create a polished movie ready to impress in no time.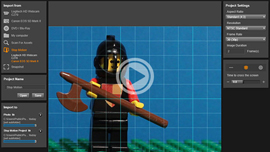 Stop Motion Animation New!
Create big screen-style animations and full-HD videos. Gather your props, plug in your camera and tap into the processing power and unique lens capabilities of your DSLR to capture your story frame by frame. Control camera settings, see overlay frames, set distances and capture frames automatically or manually from within your video editing software.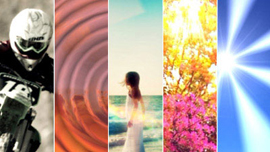 Enhance with 1,500+ Effects, Transitions and Templates
Add excitement and polish with over 1,500 2D/3D effects, animated titles and transitions. The included Montage video templates that provide preset themes—weddings, sports, holidays, sci-fi, comics and more—for fast pro-level results with just a few clicks. Customize them for just the right look.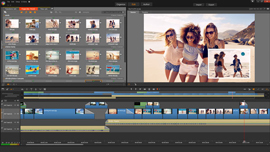 Easy Controls for Dynamic Effects Enhanced!
Turn a static image into a compelling part of your video with simple controls for Pan and Zoom. Add interest and excitement with the easy Picture-in-Picture effect. We've also made Audio keyframing easier, changing knobs to slider controls.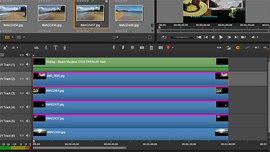 Timeline Editing (6-tracks)
Set source clip trim in/out points, then send your trimmed clips to the timeline. Six tracks let you create sophisticated picture-in-picture and multi-layer effects in HD with frame accuracy and keyframe editing—just like a pro. Or try Storyboard editing to visualize how your story will unfold.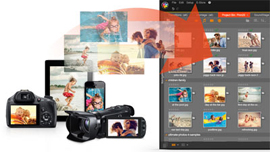 Easily Import Media
Import your videos and photos manually or automatically from virtually any device—camcorders, digital cameras, webcams, tablets, mobile phones, handheld audio recorders, and more. Pinnacle Studio 20 also supports for VFR videos from iPhone 6 and other new-generation cameras. Import from tape-based1 and analog devices1, as well as audio files in 5.1 surround format.
Save Your Favorites
With a simple right click, you can easily add your most-used effects, filters and transitions to your Favorite section to quickly find and reuse them anytime. Rate effects using our 5 star scale to easily sort your library and quickly find your favorites or frequently used effects.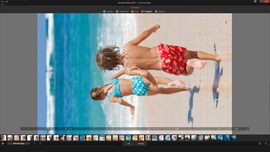 Quick Fixes for Common Problems
Do you need to rotate your video or enhance the color? No problem! Pinnacle Studio has you covered with video rotation tools. Crop, zoom, and eliminate red eye from photos. Color-correct video and stabilize shaky footage.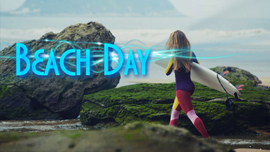 Titles and Overlays
Add titles to your photos and videos, or overlay graphics on your clips. Control motions and durations. With a diverse selection of title animations, you are guaranteed to find the perfect look to complement your video.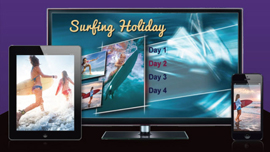 Pinnacle MyDVD Enhanced!
Experience a new and easier way to burn to DVD and AVCHD disc. Get a stylish look with 50+ themed templates to add menus, sub-menus and chapters to your video. Turn your videos into pro-quality multimedia disc projects with image-rich menus and music.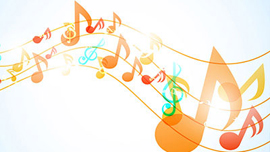 ScoreFitter Sounds & Music
No movie is complete without a soundtrack. Add music with the included ScoreFitter library of royalty-free sounds and songs—they even automatically adjust to perfectly fit the length of your movie.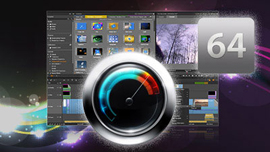 Robust Performance
See results sooner with native 64-bit architecture that lets you make the most of your PC's processing power and memory. Enjoy faster multi-track rendering and better file handling. Pinnacle Studio 20 video editing software is also optimized for Intel's 6th Generation processor (Skylake).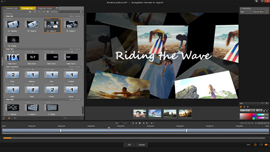 Photo Slideshows and Videos
Use your video editor to create amazing photo slideshows complete with transitions, titles and effects, or combine photo and video for the perfect montage. Start with themed montage templates or create from scratch on the multi-track timeline.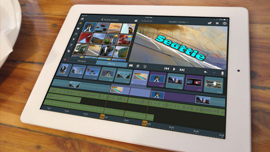 On-the-Go Video Editing Software
Work on projects anywhere with Pinnacle Studio for iOS2, then transfer them to Pinnacle Studio for further polishing. Try Project Packages to bundle together all of the media files related to a given movie, taking the work out of organizing and assuring that you always have all the files you need.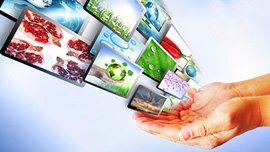 Share Anywhere
Pinnacle's simple video editor allows you to easily share your HD videos with family and friends on Facebook®, YouTube®, and Vimeo®. You can also easily create DVDs and export to popular formats like Adobe® Flash® FLV, MPEG-4, and DivX®, as well as popular devices like Microsoft® Xbox®, Sony® PlayStation, Nintendo™ Wii™, Apple® TV and Apple® iPad®.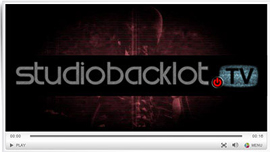 Includes FREE Training!
Learn how to make the most of your video editing software with a 21-day, all-access pass to StudioBacklot.tv, featuring brand-new Pinnacle Studio 20 content, loads of other training and a royalty-free stock library. Visit our Discovery Center for help getting started or to access tutorials on specific techniques and projects.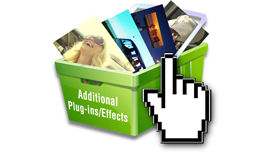 Additional Plugins and Effects Available
Expand the power of your video editing software with additional plugins and effects that you can purchase directly within Pinnacle Studio! Preview and purchase high-quality, royalty-free music from Triple Scoop Music and sound effects from Muserk. Burning to Blu-Ray? Purchase the Blu-Ray plug-in directly within Pinnacle Studio.
1 Video capture hardware required
2 Pinnacle Studio for iPad app not included, available for purchase separately
Support

Lifetime Support from Brand at no extra cost

Number of Computers

1 Computer

License Type

Permanent (One Time Purchase for Life)

Delivery Method

Instant Download

Compatible Operating Systems

Windows 7, Windows 8, Windows 10, Windows 11
Unfortunately, computer software cannot be returned, cancelled or refunded.
It cannot be returned because the software and license key have been exposed to you. Either it has been used and activated by you and cannot be used by anyone else or it could be used at a later date. This is standard refund procedure for computer software no matter where you purchase it.
Please ensure your system is compatible with the Software before Purchase.
All technical support inquiries should be sent to the Brand for resolution.
---
Compare to Other Versions
A table comparing the facets of 3 products

Facet

Pinnacle Studio 20 Plus - Instant Download for Windows

View Product

Pinnacle Studio 20 Standard - Instant Download for Windows

View Product

Pinnacle Studio 20 Ultimate - Instant Download for Windows

View Product

Rating

Rating
N/A

Brand

Brand
Pinnacle
Pinnacle
Pinnacle

Type

Type
Video Editing
Video Editing
Video Editing

Price

Price

$49.00 $99.95

Unavailable

$29.00 $59.95

Unavailable

$69.00 $129.95

Unavailable

Operating Systems

Operating Systems

Windows 7, Windows 8, Windows 10, Windows 11

Windows 7, Windows 8, Windows 10, Windows 11

Windows 7, Windows 8, Windows 10, Windows 11

Delivery Method

Delivery Method

Instant Download

Instant Download

Instant Download

Number of Computers

Number of Computers

1 Computer

1 Computer

1 Computer

License Type

License Type

Permanent (One Time Purchase for Life)

Permanent (One Time Purchase for Life)

Permanent (One Time Purchase for Life)

Customer Support

Customer Support

Lifetime Support from Brand at no extra cost

Lifetime Support from Brand at no extra cost

Lifetime Support from Brand at no extra cost

Features

Features